Death of Edward I of England
Edward Longshanks died on July 7th, 1307.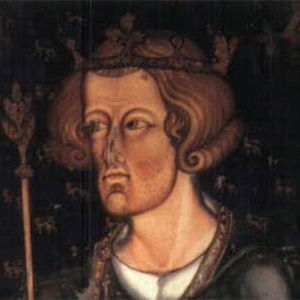 The son of a weakling father and in turn the father of a weakling son, Edward I was one of the most formidable and effective of all English kings. Standing six foot two inches tall, he had an impressive presence and a ferocious temper, and contemporaries apparently had no difficulty in believing the story that one unfortunate man died of sheer fright in his presence. He had been named Edward by his pious father, Henry III, in honour of Edward the Confessor, but there turned out to be little resemblance.
The new Edward conquered Wales, came close to conquering Scotland and set the institution of Parliament firmly on track. For the great majority of his English subjects he was an excellent king because he kept good order and would not tolerate injustice. He also fathered some seventeen children by his two wives. As he grew older, his temper grew more savage and his second wife, Margaret of France, had to try to protect the children from their father's anger.
In 1290 Edward was recognized as overlord of Scotland when he was called in to decide who should succeed to the vacant Scottish throne. He pronounced in favour of John Balliol, whom he treated as his puppet. When Balliol objected, Edward invaded Scotland in 1296, put Balliol in the Tower of London and put the Scots under English rule, but he faced one rebellion after another for the next ten years. In 1306 Robert Bruce took up the cause of Scottish independence and was crowned King of Scots at Scone.
When the news reached Edward, who was now in his middle sixties, he burst into a violent fury and resolved to finish matters with the Scots once and for all. His army was ordered to muster at Carlisle in July. Still vigorous in mind, the King's body was wearing out and he was not capable of riding. Carried north by horse-litter, he made his headquarters at Lanercost Priory, near Carlisle, while his armies ravaged Scotland and drove Bruce in flight, but Bruce returned to action the following summer. Meanwhile there had been a quarrel between the King and his son and heir, the future Edward II, over the latter's partiality for his favourite Piers Gaveston. The old King turned on his son and seized him by the hair, calling him 'whoreson mis­begotten boy' and tearing handfuls of his hair out.
Edward was suffering badly from dysentery and his opponents were anticipating his end. A supposed prophecy of Merlin was in circulation, that after his death the Scots and the Welsh would unite and have things as they wished. A defiant Edward decided that he must take the field himself. He mounted his warhorse and led his army north, but he could manage to ride only two miles a day and when he reached the village of Burgh-on-Sands, not far from Carlisle, he had to take to his bed.
It was said that he realized he was dying and sent word to his son to have his embalmed body carried with the army into Scotland so that even in death he could still lead his men. The suggestion was not carried out.
About noon on July 7th, when his servants came to lift him up so that he could eat, the king died in their arms. He was sixty-eight.
His body was sent to London and interred in Westminster Abbey in October in a plain grey marble tomb, with an inscription calling him 'the Hammer of the Scots'. As indeed he was, but in the end the anvil had worn down the hammer.