Who were the first Crusaders?
Pope Urban II launched the First Crusade, which lasted from 1096 to 1099. Jonathan Phillips examines the origins and motives of the first Crusaders.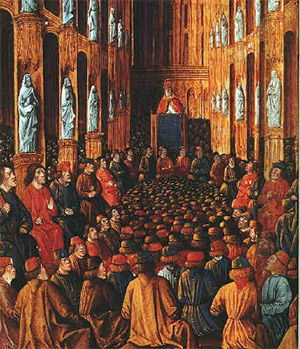 Pope Urban II at the Council of Clermont.
The canons of the council summarised the offer made by Urban II as he launched the First Crusade:
Whoever, for devotion alone, not to gain honour or money, goes to Jerusalem to liberate the Church of God can substitute this journey for all penance.
In other words, if people fought God's enemies on earth and completed a pilgrimage to the Holy Land, their actions would receive a spiritual reward of remarkable magnitude. Urban blended the familiar ideas of pilgrimage and penance with the more radical notion of papally-sanctioned violence to produce what a contemporary writer described as 'a new means of attaining salvation'. He followed the speech at Clermont with an extensive preaching tour through France and by the dispatch of letters and legations elsewhere in Europe.
The response to his appeal was remarkable, and in total almost 60,000 people set out for the Holy Land. The population of Europe at the end of the eleventh century is estimated to have been around 20 million, so clearly the vast majority of people chose to remain in the West. If, however, one adds contact through ties of family and friendship then it is clear that the crusade touched the lives of millions.