The construction of HMS Victory begins
Richard Cavendish recounts the birth of a great warship, on July 23rd, 1759.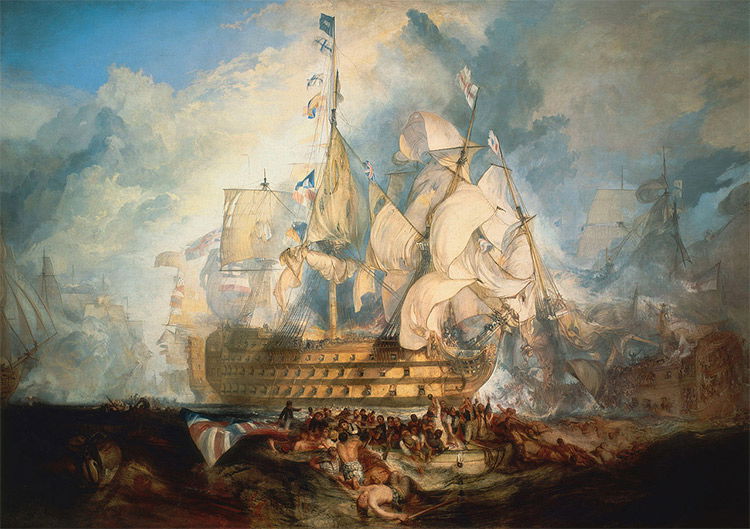 The keel of the most famous ship in the history of the Royal Navy was laid down in the Old Single Dock (now the Victory Dock) at Chatham Dockyard in Kent. Present with Admiralty officials at the occasion was William Pitt the Elder, whose government had announced a major ship-building programme of first-rate ships of the line and frigates the year before.
The new first-rate was designed by the Surveyor of the Navy, Sir Thomas Slade. Her keel was to be 259 ft long, she would have a displacement of 2,162 tons, carry a crew of about 850 and be armed with more than 100 guns. Some 6,000 trees would be used to build her, the great bulk of which were oaks, mainly from Kent, the New Forest and Germany. She was the Navy's sixth Victory. One of them, under Sir John Hawkins, had fought the Spanish Armada in 1588. Another, of 80 guns, had been launched in 1666 and the fifth, launched in 1737, had sunk with all hands in 1744.
Once her frame had been constructed, the ship would normally have been left for a few months for the wood to season. In this case, because 1759 saw so many victories in the Seven Years' War, it was felt the ship was not needed and she was left for about three years. Work began again in the autumn of 1763 and she was launched at last on May 7th, 1765. A band played 'Rule Britannia' and a crowd cheered as she slid down the slipway. For the time being she was kept 'in ordinary', moored in reserve in the River Medway.
It was not until 1778, in the American War of Independence, that the new Victory was needed and brought out of reserve, with Admiral Augustus Keppel hoisting his flag in her. Under him and subsequently Admiral Richard Kempenfelt, she saw service in the two battles of Ushant and in 1796 she bore the flag of Admiral Sir John Jervis at the battle of Cape St Vincent.
Though she was one of the fastest ships in the Navy, she was now considered too old for service and was demoted to be used as a hulk, but in 1800 the Admiralty had her extensively repaired and reconditioned at the urging of Lord Nelson. In 1803 the most glorious period of the ship's history began when Nelson hoisted his flag in her at Portsmouth and she took him to command the Mediterranean fleet. It was Victory that flew his 'England expects' signal at Trafalgar, in Victory that he died and Victory that brought his body back to England. She now rests proudly in her dry dock in Portsmouth, the oldest naval ship still in commission in the world.