The Clifton Suspension Bridge opened
Brunel's crossing opened on December 8th, 1864.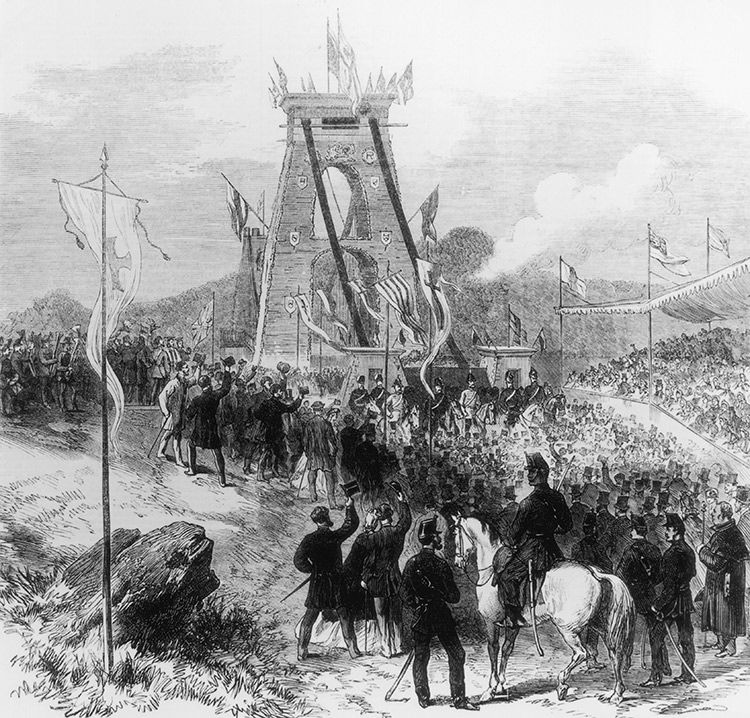 Isambard Kingdom Brunel has been described as a titan in an age of titans. He built the Great Western Railway as well as the first transatlantic steamship and later the biggest ship in the world. He designed railway stations, docks, tunnels and bridges and his best works have a magical blend of efficiency and beauty. That is true of his spectacular bridge across the Avon Gorge west of Bristol, with the river rolling 245ft (75m) below at high water. It is somehow not surprising that it is a magnet for suicides. 
A competition to design a bridge across the gorge was announced in 1829. Brunel, then in his early twenties, hastened to submit designs. The competition was judged by Thomas Telford, another engineering titan, who rejected all the entries and said that Brunel's proposed spans for the bridge were far too long to be practical. He was asked for a design of his own instead, but it was much too expensive and a new competition with different judges was held in 1831. To his delight, Brunel was declared the winner.
Work on the bridge did not properly begin until 1836 because of shortage of money and other complications. To carry building materials across, an iron bar 1,000ft-long was fixed over the gorge with a basket suspended beneath it. On its first trial the bar fell into the river. When it was fixed up again, according to one story, Brunel insisted on riding across in the basket and when it got stuck halfway over he somehow clawed himself up to the bar and freed it. The basket, it is said, became a magnet for daringly romantic proposals of marriage. 
The towers at each end of the bridge were built, but money ran out again and work stopped in 1843. It was still not completed when Brunel died in 1859 at the age of 53. The Institution of Civil Engineers decided that completing the bridge would be the best possible tribute to his memory. Fresh money was raised and the bridge was finished at last in 1864. A crowd of around 150,000 people gathered to watch the formal opening ceremony, with a massive procession of soldiers marching out from the centre of Bristol played along by 16 bands with flags flying everywhere.  
Between the two towers, which stand 85ft (26m) high, the bridge has a span of roughly 700ft (214m), which is far longer than Telford's suggested maximum. Although it was intended for horse-drawn traffic, it was so efficiently designed that it now carries more than 10,000 vehicles a day, as well as cyclists and pedestrians. It is run by a charitable trust.