Beyond Belief: Berliners and the Holocaust
As the daily life of Berlin's Jews became even more difficult under the Nazi regime, rumour and hearsay grew about the fate of those 'evacuated' to the east. How much did ordinary Berliners know about the fate of their neighbours?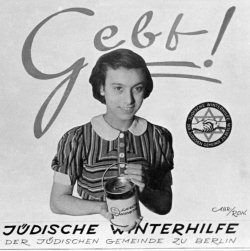 A poster from 1939 appeals for donations in aid of winter relief for Berlin's Jews.
On the first day of October 1941 Berlin's Jewish community was preparing to celebrate Yom Kippur, the holiest festival in the Judaic calendar. At the heart of the celebrations was the German capital's one remaining undamaged synagogue, on Levetzowstrasse in the suburb of Moabit, where Rabbi Leo Baeck would lead the service and minister to the faithful. There, despite all the trials and tribulations that they had endured, Berlin's Jews would repent of their sins, receive God's forgiveness and enjoy a brief respite of peace from a world that had turned decidedly hostile.
Yet, as the congregation was leaving Levetzowstrasse that evening, events took a sinister turn. At that moment Gestapo officials appeared at the synagogue demanding the keys to the building. Jewish community elders were ordered to go to the Gestapo office on the Burgstrasse, where they were informed that the 'resettlement' of the Berlin Jews was soon to begin. They were told that the Jewish community itself was required to cooperate fully in the resettlement and that the synagogue on Levetzowstrasse was to be used as a transit camp for those selected for deportation.