The UK Parliament was not designed for women with children and this continues to present challenges for new parents. How far have things changed?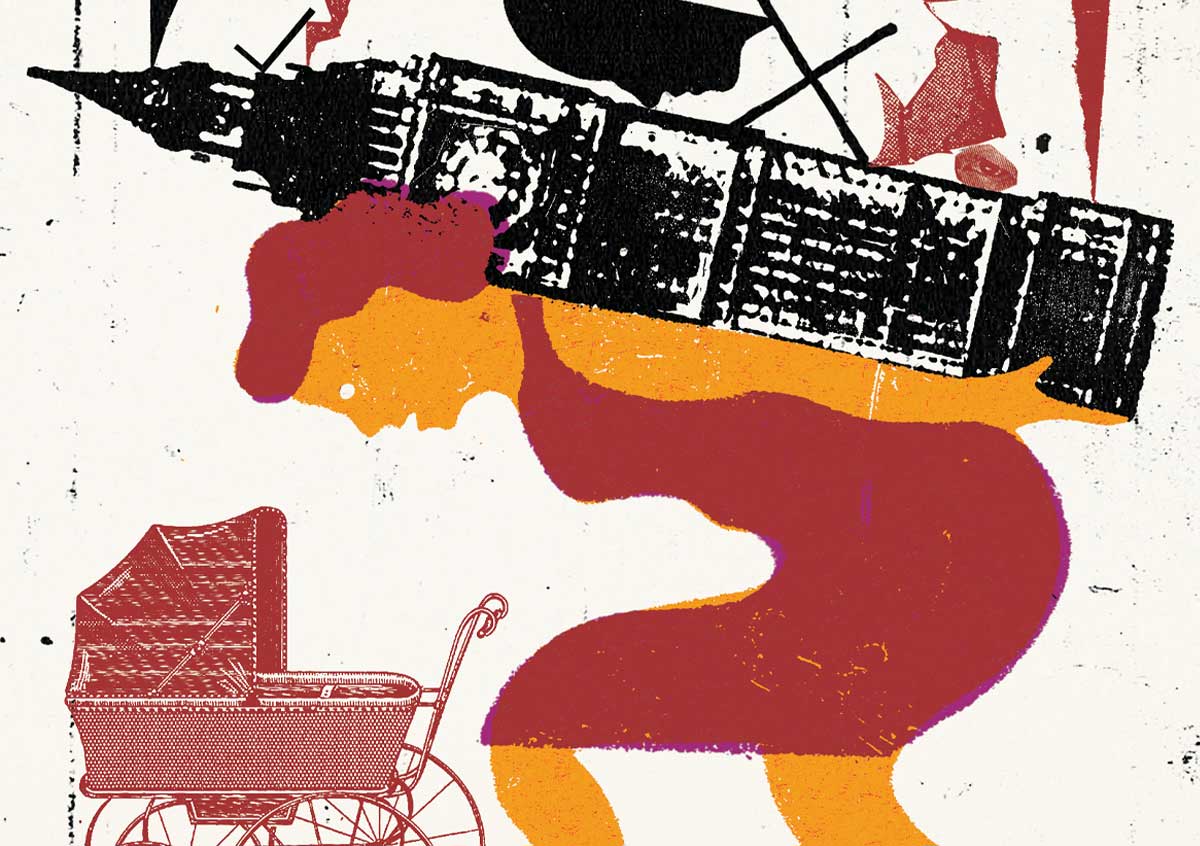 In November 2021 the MP for Walthamstow, Stella Creasy, introduced a Westminster Hall debate on the promotion and regulation of financial products on Black Friday. Later that day, however, she discovered she had started a much wider debate. Dr Creasy received an email from the office of the Chairman of the Ways and Means Committee, which oversees the rules in Parliament, pointing out that the rules prohibited MPs taking their seats when accompanied by a child. Posting the letter on Twitter, Creasy remarked that: 'Mothers in the mother of all parliament (sic) are not to be seen or heard it seems.' This is only the latest example of the way women's political participation is negotiated and policed in a system and space that was not designed for them and that has often struggled to accommodate their presence. 
In 1919 Nancy Astor became both the first woman and the first mother to take her seat in the House of Commons. She, however, had an army of staff able to care for her children: not something available to the vast majority of women. As a result, most of the women elected to Parliament in the inter-war years were single or childless. Those few women who were mothers either, like Hilda Runciman, had adult children, or, like Lucy Noel-Buxton, shared Astor's privileges. Leah Manning and Ruth Dalton both lost their only daughters to childhood illnesses. The first woman to give birth as an MP was Beatrice Wright in 1942. Elected to Parliament when her first husband was killed in the war, she declined to seek re-election. 
Many more women with children were elected in the Labour landslide of 1945. Some used their experiences as mothers explicitly in their politics. Muriel Nichol and Mabel Ridealgh shared their memories of enduring labour without pain relief in their efforts to make anaesthesia a right for women giving birth. Jean Mann was known as 'haud the wean Jean' during her early campaigns in Scotland, needing one comrade to chair her speeches, one to take the collection and one to hold her baby. In contrast, Bessie Braddock proudly claimed to have attended her first speech – by her own mother – at just three weeks old. These women did not believe that gender or motherhood should be a barrier to political participation.
But most of these women were the mothers of older children by the time they won election. Selection committees, often cautious when it came to choosing women candidates, were even more sceptical of mothers, believing that women would – and should – put their families first. Young women candidates were subjected to intrusive questions that would never have been asked of young men. Women on selection committees could be particularly critical.
Baby steps
But eventually younger women with younger children began to enter the House of Commons in greater numbers. Buoyed by the increasing acceptability of combining paid work and motherhood, women were no longer content to wait until their children were grown up before trying for a parliamentary seat. In the 1960s, as a single mother the MP for Eton and Slough, Joan Lestor, even adopted two children. Like most working mothers, these MPs organised their childcare according to their income, resources, priorities and preferences. Judith Hart, the first female cabinet member to have children, moved her family to London and installed her mother-in-law to help. Margaret Thatcher hired a nanny and then sent her children to boarding school. Long hours and late nights combined to make motherhood difficult for women in Parliament. Shirley Williams, who shared her home and childcare with another family, raced home to feed, bathe and read to her daughter before returning to the House for late night votes. 
Helene Hayman was herself the baby of the house – the youngest member of the House of Commons – when she had her first son in 1976. With the Labour government holding onto power by the slenderest of margins, the whips demanded her return just ten days after giving birth. Hayman was also the first woman to breastfeed in the House of Commons, borrowing Shirley Williams' office to do so. But in general new mothers reported feeling hostility from their colleagues in Parliament. A male Conservative MP actually called the police when Helene Hayman left her baby and his nanny in the Lady Members' Room. In the early 1980s, Harriet Harman was reprimanded by the serjeant-at-arms for secretly carrying her baby under her coat to vote – despite this being nothing but a rumour designed to discredit her. Worried about the need to prove herself, she didn't take maternity leave, even while campaigning to win women stronger maternity rights. Things were no better in the early 1990s. Diane Abbott found that, even as a single mother, she was expected to attend votes a few days after the birth of her son. 
In 1997 the election of 101 Labour women significantly changed the composition of the House of Commons. Yet it proved far more difficult to change the culture. There were extensive debates about how to make Parliament more family-friendly as part of broader discussions on modernisation. After much argument, working hours were changed to bring an end to late night sittings so that MPs could return to their families in the evening. But there was a vocal minority who felt that the changes were unnecessary, or even counterproductive, encouraging MPs to go to the pub in their newly empty evenings. 
Introducing a nursery to Parliament in 2010 proved controversial, especially as it replaced a popular bar. During this period, Yvette Cooper became the first minister to take maternity leave, but felt sidelined by parts of the civil service. Her husband Ed Balls is one of the high-profile men to take paternity leave since its introduction in the early 2000s. Tony Blair, Gordon Brown and David Cameron all did likewise, although Boris Johnson does not appear to have followed suit. 
Progress?
In 2015 then speaker of the house John Bercow invited Professor Sarah Childs to develop proposals for reforms to enhance representation and inclusion at the House of Commons. Her report the following year set out a range of possible measures, many of which were specifically aimed at supporting MPs with children. These included considering adding a crèche to the nursery provision, allowing MPs to be counted at the door of the division lobby when accompanied by their children and producing a House Statement on all forms of leave, including parental, adoption and caring. Professor Childs has said that the media were so keen to obsess over breastfeeding that she did not give them the satisfaction of using the term. In fact, she preferred to discuss the option of infant feeding, since many babies are bottle fed, and many fathers want to play their part. 
Since then, different schemes have been trialled to help MPs manage the competing demands of family life and parliamentary responsibility. Stella Creasy herself was replaced by a locum after the birth of her first child. Her locum handled constituency casework, but was not able to vote or speak and the offer was not renewed during her second pregnancy. Other MPs have used the established system of 'pairing', whereby MPs on opposing sides agree not to attend in order to even the voting numbers. In 2018 this was undermined when Brandon Lewis participated in a knife-edge vote on Brexit despite being paired with Jo Swinson, at home with her newborn child.
In 2019 the MP for Hampstead and Kilburn Tulip Siddiq had to delay a scheduled caesarean birth to attend a vote on Brexit. Brought to the chamber in a wheelchair, she was granted a proxy vote the next day. This right has now been extended to other new parents, allowing MPs to take paid maternity leave for up to six months. But most have been reluctant. Siddiq was undertaking casework three days after the birth of her son. No doubt this reflects worries that constituents will miss out on parliamentary representation and concerns about MPs' own visibility. Meanwhile Ruth Davidson stepped down as leader of the Scottish Conservative Party after the birth of her son, citing concerns about work/life balance.
Culture change
There are some positive signs of change. Successive chairs of the Women and Equalities Committee, Maria Miller and Caroline Noakes, have expressed frustration with the pace of reform and a determination to see a genuine transformation in parliamentary culture. Bim Afolami became the first male MP to use the right to a proxy vote while on paternity leave. A change to the law enabled Suella Braverman to become the first cabinet minister to take maternity leave. Meanwhile, new parents bringing their babies to work have generally been met with a warmer welcome. Both Chloe Smith and Karl Turner brought their infants to the Commons for crucial votes on Brexit. The current speaker, Lindsay Hoyle, has encouraged new parents.  
On the other hand, as Stella Creasy's recent experiences show, there is a long way to go before new parents feel fully supported. Ellie Reeves, who was an employment rights lawyer before her election to Parliament, has argued for a number of practical reforms to improve life for new parents, including electronic voting booths, parent and baby parking and a shared parental leave policy. Yet parents themselves have varied opinions on how best to accommodate young children. Alicia Kearns has been adamant that breastfeeding is best done outside the Chamber, arguing that women don't breastfeed in other professional workplaces.
The chair of Parliament's Procedure Committee, Karen Bradley, is currently undertaking a review of the rules and will make recommendations on this issue. As Lindsay Hoyle said in a statement: 'Rules have to be seen in context and they change with the times.' The times certainly have been changing. The New Zealand premier Jacinda Ardern, the second world leader to give birth in office, recently took her three-month-old to a peace summit at the United Nations General Assembly. If babies can appear on the world stage, they can surely be present on the parliamentary benches. 
Lyndsey Jenkins is a Leverhulme Early Career Fellow working at Queen Mary University of London on Labour women MPs between 1945 and 1979.