Anne Kershen looks at the background to a significant benchmark in British anti-immigration legislation.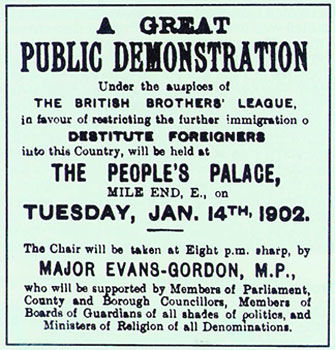 The Aliens Act of 1905 was a watershed in British history, marking as it did a victory for the opponents of unrestricted alien access into Britain. It was significantly the first such legislation to be passed in peacetime. In the context of what was to follow, it was the point at which the liberal, 'Open Door' approach to immigration began to close; a process that continued throughout the twentieth century.
Before 1905 restrictions on who could enter the country had existed, but these earlier Aliens Acts were passed in times of war. The Aliens Act of 1793, for example, was a direct response to the renewal of war with France and fear of 'Frenchie spies'. The Act required all aliens to have documentation and enabled the prohibition of, but did not ban, alien landing. When peace resumed, restrictions were relaxed, and by the 1830s controls on alien entry had been abolished. Though an Aliens Act was put on the statute book as a safeguard when the revolutions swept Europe in 1848, restraints were never imposed. Apart from criminals, those proven to be carrying contagious diseases or showing signs of madness, most of the nineteenth century passed without restraint on immigrant entry. By the third quarter of the century, Britain was perceived as a beacon of economic opportunity and freedom, the most tolerant country in Europe and beyond, the United States having introduced immigration control in 1882.