There was no period in the past when people did not try to manipulate nature in order to provide a more varied and nutritious diet, argues Annie Gray. We will need similarly ingenious methods in the future.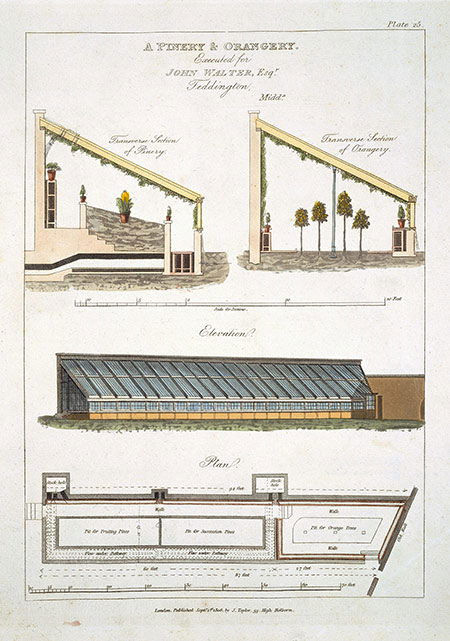 A design for a pinery and orangery at Teddington, Middlesex, 1806.
'Grow your own' is everywhere at the moment. We are exhorted to grow for flavour, for relaxation and for the good of the planet. If we are unable to grow it ourselves then we should at least, so the argument goes, try and source it locally. We must aspire to be locavores, using farmers' markets, local butchers and to stroll through the woods, foraging for titbits such as wild garlic and (safe) mushrooms. Time and time again modern food commentators insinuate that eating seasonally is the 'right' thing to do. Frequently they call upon the example of the past, when we lived, supposedly, in a rose-tinted harmony with our surroundings. We ate, apparently, according to what was in season, sourced everything locally and were largely self-sufficient. After all, just look at all those big country houses, producing everything they needed within the estate.