The Search for the Real 007
Andrew Cook relates the story of Sidney Reilly - the inspiration behind James Bond.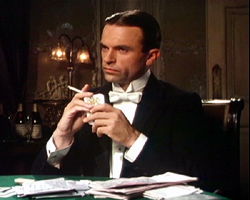 Sidney Reilly, the man said to have been the inspiration for James Bond, was one of the most complex and remarkable characters in the twentieth-century history of espionage and the creator of a personal myth that still exerts a powerful grip on the imagination today. A rich and flamboyant adventurer, Reilly blazed a trail from the gentlemen's clubs of Edwardian England to the walls of the Kremlin, leaving his unique mark on world events along the way.
Reilly himself told numerous stories about his supposed origins before moving to Britain in his early twenties. He claimed at different times to be the son of an Irish sea captain, an Irish clergyman, a Russian aristocrat, and a Polish landowner. Among the places he claimed to have been born were Clonmel, Dublin, Odessa and St Petersburg. He was instrumental in enabling the Japanese to launch their surprise attack on Port Arthur in 1904, to securing the Persian oil concession for the benefit of Britain (and what would ultimately become the BP Oil Company), but Reilly is perhaps best remembered today for his role in the thwarted attempt to overthrow Lenin in the summer of 1918.