Smoking: The Growth of a Social Habit
Stephen Coleman traces the history of smoking, from its American beginnings to the twentieth century mass market.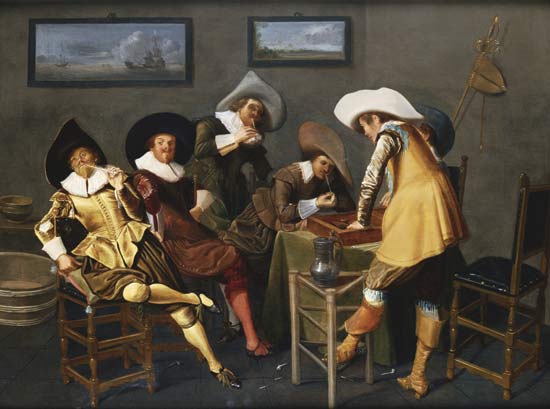 Thomas Middleton's play, The Roaring Girl, is not the best known, nor indeed the most hilarious, of Jacobean comedies. But the title page of its first edition in 1611 has a certain interest for students of the social period—particularly for any student who may be concerned with the history of the tobacco trade. There stands Mary Frith, otherwise "Moll Cutpurse,""a bold virago, stout and tall," dressed in a man's doublet and breeches and puffing at a clay pipe. Mary Frith was the scandal of her sex, courtesan, pickpocket, highway-robber and receiver of stolen goods; and the pipe she carries completed the dramatist's picture of intrepid infamy. Middleton died in 1627; and during his lifetime the smoking habit was only gradually becoming acclimatized. James I had made it a subject of royal reproof, thundering against this nauseous new mode in tones of pedantic indignation; and, somewhat earlier, when the great Christopher Marlowe was arraigned before the Privy Council, tobacco-addiction was listed among the poet's vices. Marlowe, of course, belonged to Raleigh's circle, suspected by their contemporaries both of loose-living and of free-thinking; and James, who signed Raleigh's death-warrant, certainly implied that he was the "father" of the practice he so heartily condemned. This may or may not have been true. But there is no doubt that he hoped to popularize it, and that, for many years after Raleigh's death, smoking for pleasure was still a badge of moral non-conformity.