Singapore Naval Base Opened
The ill-fated fortress was opened on February 14th 1938.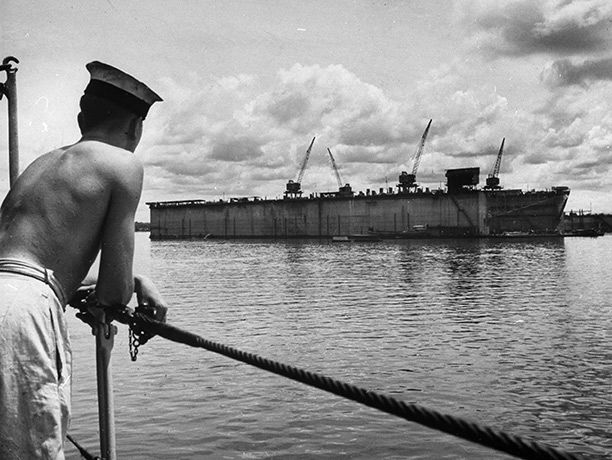 The island of Singapore at the foot of the Malay peninsula originally came under British control in 1819. With a fine harbour on the sea route between India and China, it became a major port and in 1923, with Japanese power growing in the Far East, the Conservative government in London under Stanley Baldwin decided to create a naval base on the northern side of the island on the Strait of Johor.
The base took an extraordinary length of time to build. Ramsay MacDonald condemned the project as a 'wild and wanton escapade' and when the Labour Party came briefly to power in 1924 work was stopped. It soon started again when the Conservatives regained office, but was suspended by the Labour administration in 1929 in the cause of international disarmament. Japanese aggression in the 1930s forced another turn of the roundabout and work was speeded up.
The base was at last formally opened in 1938 by Sir Shenton Thomas, high commissioner for the Malay States and in effect governor of Singapore, at a ceremony attended by 11,000 people. The King George VI dry dock was big enough to take the largest ships in existence and Singapore was provided with airfields, heavy artillery and anti-aircraft batteries, as well as a battalion of infantry as a garrison. The Sydney Morning Herald hailed it as 'the Gibraltar of the East' and a 'bastion of British might'.
The base cost £60 million to build, equivalent to more than £2.5 billion today, but its formidable defences were not adequately manned. London assumed that any attack would come from the sea and that its military and air cover would protect Singapore until the Royal Navy could send ships that would take an estimated 70 days to arrive. What actually happened was that Japanese troops moved swiftly south by land through Malaya and descended on Singapore at the end of January 1942 in overwhelming force. The Gibraltar of the East surrendered to them on February 15th.