A Shot Fired at Queen Victoria
The young Queen was shot at on May 19th, 1849.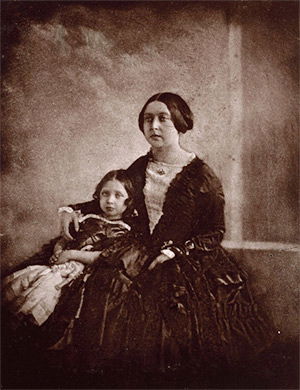 Queen Victoria circa 1844
On a pleasant Saturday afternoon in May a few days short of her 30th birthday, Queen Victoria went for a family drive in London's Hyde Park. In the carriage with her were the nine-year-old Princess Royal, the eight-year-old Prince of Wales (the future Edward VII) and little Princess Helena, who was three. Prince Albert was on horseback some way ahead of them. As the royal carriage moved down towards the bottom of Constitution Hill on its way back to Buckingham Palace between 5.30 and 6pm, a pistol shot rang out. The man who fired it was standing under a tree and was promptly seized by the bystanders.
No one in the royal party was hurt. The carriage drove straight on and the Queen, who was no coward, was seen to be speaking to the children, presumably to calm them. When she and the children reached the palace, they were met by an agitated and desperately relieved Prince Albert and, as word spread of what had happened, members of the nobility called to express their alarm.
The event was reported with grave concern by the Times on the following Monday, the 21st. The man who fired the shot was put in a cab and taken to the police station in Gardner's Lane, off King Street in St James's, by a police constable and one of the park-keepers, who had some difficulty in preventing the spectators from attacking him. Dressed in corduroy trousers and a shabby old coat and hat, he proved to be an Irish bricklayer's labourer called Hamilton, from Adare in County Limerick. He had been in London for five years, working when he could find it, and living in a lodging house in Eccleston Square, Pimlico. He had also spent some time in France, working on the Belgian railway, a circumstance which, the Times thought, suggested that his motives might well be political.
On the Saturday morning at his lodgings Hamilton was seen tinkering about with some bits of wood and a tea-kettle spout, trying to make a gun, before borrowing from his landlady, Bridget O'Keefe, a rusty old pocket pistol of her husband's, which the children used as a toy. Hamilton said he would clean it, but in fact sent one of the children, 10-year-old Edward O'Keefe, to buy a ha'pennorth of gunpowder from an old woman in Ebury Street and then made sure it would fire.
With the pistol in his pocket he set off for Green Park, where he asked one of the small crowd of on-lookers, a woman, whether the Queen had come by yet. Almost at that moment the royal carriage was seen approaching and the woman said, 'Here she comes.' Hamilton said, 'All right', levelled his pistol at the carriage, which was now a little way past him, and fired. The gun went off with a loud bang, but as he had not loaded it with a ball, but only with powder, he apparently had meant to frighten rather than kill. He tried clumsily to thrust the pistol back in his pocket, but made no attempt to run away or to resist arrest.
Young Princess Helena summed up the situation pithily enough. 'Man shot, tried to shoot dear mama, must be punished.' Hamilton was sentenced to transportation for seven years and no more was heard of him.