New Avenues of Germany's Past
As Holocaust survivors die, new approaches are required to tell their history, as shown in this unsentimental, emphatic account of the inhabitants of a Berlin street.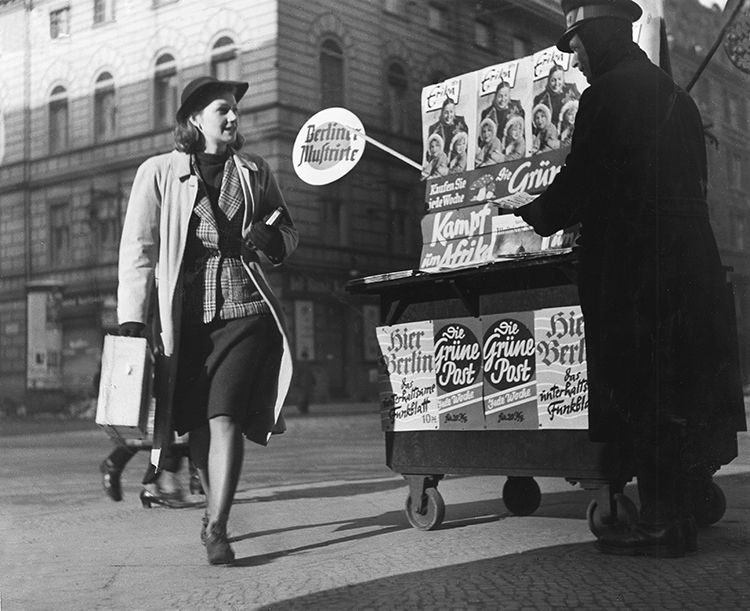 Since the fall of the Iron Curtain, Berlin has emerged as one of the most historically and culturally fascinating cities. Germans have systematically addressed their Nazi past: the crowds of visitors from around the world touring the city find brass Stumbling Stones in front of many houses, which commemorate the last free abode of the victims of Nazism. In particular, the memorials in Bayrisches Viertel in the Schöneberg district represent a dignified, bourgeois neighbourhood that used to have a large Jewish population and mark its persecution. This is now where Pascale Hugues lives. Her book chronicles the accomplishments of the people of Schwäbische Straße as a chronicle of 20th-century Berlin, from Kaiser Wilhelm to David Bowie. 
Hannah's Dress belongs to the genre of the new Holocaust memoirs. As Holocaust survivors die, it is their descendants and researchers who will write their history: Sarah Wildman's Paper Love and Philippe Sands' East West Street are remarkable examples. 
Hugues depicts the street's history as palimpsest: Berlin's dramatic past always lurks just beneath the surface. Visiting her local park, the author meets an older woman who blurts out that she was sexually assaulted by Red Army soldiers. Similarly, memories of the 106 murdered Jews who had lived in the street are never far away. Hugues traced a dozen former Berlin Jews, scattered between Haifa, Berkeley and Australia. Her sensitive, inquisitive reporting is one of the book's strengths: she shows elderly women and men who spent their youth in a bygone city, but whose entire lives were marked by forced emigration and murdered family members. Hannah Kroner, from Long Island, kept the title-lending evening gown her adoptive sister gave her as  a parting gift in 1939 for 70 years. Hugues took the dress back to Berlin and sent Kroner a picture of herself wearing it on her balcony. Her stories trespass on what we understand as history and have a way to be always present. Hugues' poignant, inquisitive research, combining oral histories with archival work, renders an unsentimental yet empathic history about real people.
By focusing on one street, class and material history become dominant. The former wealth of Jewish Germans was expressed in their address, eating habits, clothing and professions. Persecution and emigration erased the old class markers for at least one generation. Importantly, Hugues finds that, after the war, it was often the women who worked in menial jobs to provide food for the family table, while some men broke down. This confirms the findings of feminist historiography. For those Jews who stayed behind, their apartments remained the only safe space, while neighbours waited for them to be deported so that they could get a bargain at the furniture auctions. The author tells the story of Lilli Ernsthaft, who survived the war in the Jewish hospital. Her son was drafted to forced labour as a dustman. One of his Gentile colleagues told him: 'Don't worry, my boy, in a few years you'll be in charge again and we'll still be collecting rubbish.' After the war, the Ernsthafts recovered somewhat economically, but it took a decade of Lilli's tenacious fighting to receive the reparations. When I first read about Lilli Ernsthaft I wondered what it is that makes the untold stories beyond the beaten track so instructional? Why do so many then return to those few canonised Holocaust survivors? It reminded me of Heinz Knobloch's The Inconspicuous Life of Mathilde Jacob, a biography of the secretary of Rosa Luxemburg, which has never been translated into English.
It is perhaps because the time is right that Hannah's Dress has been translated into several languages. The translation is occasionally bumpy, with unintentionally funny French mistakes, but, overall, the book is a little gem.
Hannah's Dress: Berlin 1904-2014
Pascale Hugues 
translated by C. Jon Delogu
​Polity Press 250pp £20
Anna Hájková is a historian at the University of Warwick.