To be present where so many are now absent offers students a profound insight into the realities of history, argues Tom Jackson.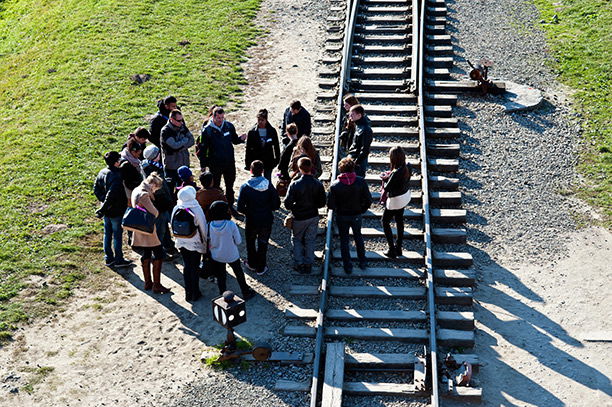 In the editorial of the October edition of History Today Paul Lay raised two questions regarding site visits to locations relating to the Holocaust: what is the value and what is learned? Lay referenced Catherine Bennett's piece in the Observer, published in August, which highlighted the context in which an individual or group visits a site of genocide. These important questions are the sine qua non of the Holocaust Educational Trust's Lessons from Auschwitz (LFA) project referred to in both articles.
The Trust, through its LFA project, organises 17 courses per year across the UK. Each consists of an orientation seminar, a one-day visit to Auschwitz-Birkenau and a follow-up seminar. Crucially the course does not end there. Through what is called Next Steps, participants take on a responsibility to pass on what they have learned about the Holocaust and its contemporary relevance. To date over 21,000 students and teachers have participated in LFA.
Bennett and others have raised concerns about Auschwitz-Birkenau as a stag/hen weekend activity: a tokenistic visit prior to the inevitable bar crawl. A strength of the LFA orientation seminar lies in the opportunity to discuss precisely this issue. In small groups led by a trained Holocaust Educational Trust educator, questions of why and how to visit sites of genocide are raised. Participants, all aged between 16 and 18, are presented with a webpage from a company offering stag/hen visits to Auschwitz-Birkenau. There is a level of sophistication to the ensuing discussion, which may surprise those who are not in regular contact with teenagers. Many, initially, are shocked, even outraged – some need convincing it is not a spoof website. However careful questioning by the educator and clear thinking on the part of the students allows discussion on the range of reasons any visitor may have. There is recognition that the tour company is nuanced in its promotion of the visit and that we must question whether there is a 'right' and thus a 'wrong' way to visit Auschwitz. Students come to argue that what one takes away from the visit is perhaps more important than one's reasons for going in the first place.
LFA is based on the premise that 'hearing is not like seeing'. Prior learning is vital, but visiting an authentic site helps to deepen the understanding of this learning. Thus preparation for the visit itself is essential. An LFA course begins before the orientation seminar, with participants being asked to consider what they know about Auschwitz, what they imagine it is like and what they hope to learn. Responses to these questions are used as the basis of discussion about expectations and concerns. Central to the seminar is the opportunity to hear first-hand testimony from a survivor of Auschwitz-Birkenau.
The follow-up discussion becomes more sophisticated, as participants begin the process of considering what they have learned and how they are going to share their understanding of the contemporary relevance of the Holocaust with others. It is here, and in their Next Steps, that the value of the visit becomes clear, as participants (now acting as ambassadors for the trust and formally designated as such) put together a range of activities, from leading assemblies about the Holocaust at their schools to organising community events.
But what of the visit itself? We begin with a short contextualising stop at one or more prewar Jewish sites in the Polish town of Oświęcim (Auschwitz). This reveals the prewar Jewish community and thus provides a clearer understanding of what was lost. As one participant put it: 'Standing on the ground where a synagogue had once been, allowed me to get the sense of community and culture, which allowed me to humanise the victims and remember them for the people they were and not just a group who happened to be caught up in an unfortunate event.'
Comments during and after the visit emphasise the impact of being able to 'walk in the footsteps' of survivors such as Kitty Hart-Moxon. When reading her description of working in the Scheisskommando, while standing in the very latrines in which she slaved, the value for participants becomes clear from their comments and questions. Here is a key difference between an LFA visit and the standard guided tour of Auschwitz-Birkenau. The interaction between the camp guide and the group educator, using carefully selected readings and questions, gives participants the opportunity to respond and reflect on what they are seeing, hearing and feeling. Participants respond directly to the site and its meanings intellectually, not just emotionally. A key site is where one can look at the commandant's house, where he lived with his family, while standing next to gas chamber/ crematorium 1. By humanising the perpetrators, one is able to begin the process of comprehending how 'such abominations as the Holocaust can arise'.
As in Oświęcim, it is absence that participants refer to after having visited Birkenau. In Auschwitz it is what you see that is affecting; in Birkenau it is what you don't see. This is more illuminating than reading or watching a film about the Holocaust. It is one's presence in a site of absence which is so educationally powerful. That is the value of a visit from which much can then be learned.