The Oscar-winning film is re-released ahead of the Olympic Games.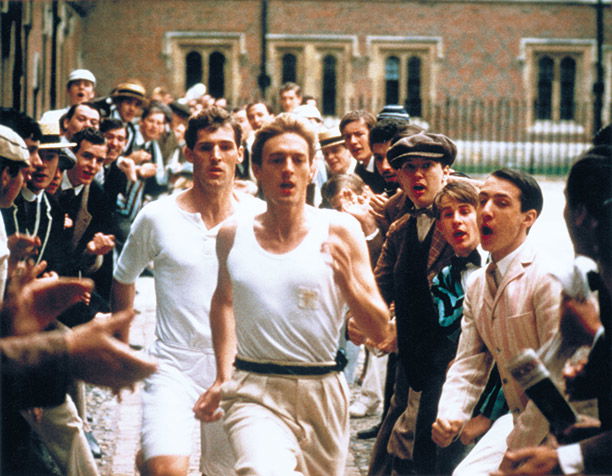 It must have seemed a somewhat quixotic enterprise to produce in 1981 a major feature film about an athletic rivalry in a long forgotten Olympic Games. But Chariots of Fire was destined to become, in the words of Sir Roger Bannister, 'one of the greatest films about sport' ever made, the recipient of four Oscars (including Best Picture) and a world-wide box office hit.
It is much more than just a film about two British runners winning gold medals at the 1924 Paris Olympics, enhanced by the lyrical slow motion running scenes, the iconic Vangelis score and superb performances by the then unknown Ben Cross and Ian Charleson. It is essentially a film about two determined individuals defying and triumphing against the Establishment. The intense and driven Jew Harold Abrahams (Ben Cross) defies the antisemitism of Cambridge dons and their disapproval of his use of a professional coach, another outsider, Italian/Arab Sam Mussabini (Ian Holm). The devout Scottish Christian and intending missionary Eric Liddell (Ian Charleson) refuses to race on a Sunday, despite pressure from the Prince of Wales and the aristocrats of the British Olympic Committee. This chimed exactly with the spirit of the age in which the film was made when another outsider, Margaret Thatcher, the grocer's daughter from Grantham, became Britain's first woman prime minister, routed the old Conservative establishment and preached a gospel of heroic individualism.
Inevitably the film has the usual quota of errors and omissions, altering facts to fit the narrative. Although Harold Abrahams' romance with opera singer Sybil Evers features in the film, it did not in fact begin until nine years after the Olympics. It was not Abrahams who won the legendary 'college dash' but his friend Lord Burghley (fictionalised in the film as Lord Andrew Lindsay, played by Nigel Havers). None of this matters that much in the face of a moving and inspiring story of two very different athletes pushing themselves to the limit. It unforgettably dramatises the agony and the ecstasy of young men running 'with hope in their hearts and wings on their heels'.
Jeffrey Richards is Professor of Cultural History at Lancaster University.