The Many Deaths of Captain Kidd
Our fascination with pirates and the search for buried treasure continues to make headlines.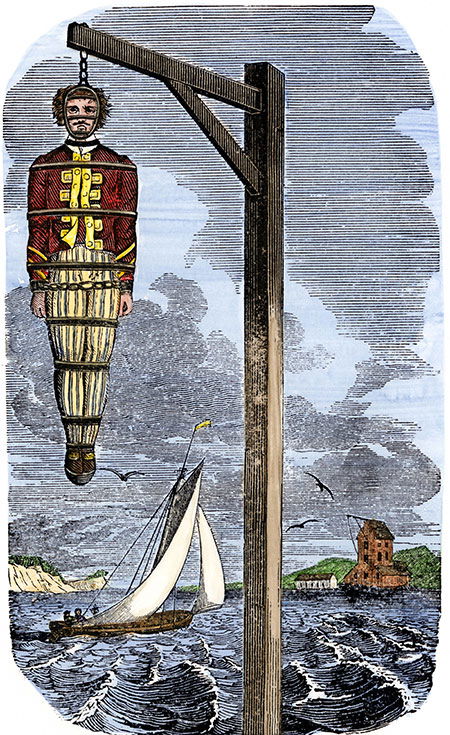 News broke on May 7th, 2015 that the long-lost treasure of the notorious pirate, Captain William Kidd, had been found off the coast of Madagascar in the form of a silver bar.
This is not the first time someone has claimed to find Kidd's lost treasure, or at least evidence of it. One of the most famous cases was the discovery of a map known as the Kidd-Palmer Charts, which pinpointed the location of Kidd's treasure in the South China Seas; the fervour it provoked even sparked the financing of a major expedition in the 1950s, which fell through when the map was shown to be a hoax. As of the writing of this article, it seems possible that the discovered treasure and the accompanying shipwreck are Kidd's, based on what we know of his travels before his arrest in New York City in 1698. However, there has not yet been any forensic or archaeological confirmation of Kidd's ship, the Adventure Galley, so the legitimacy of this claim remains to be seen.
Why has Captain Kidd remained in our memory for so long? Much mystery surrounds his life and legacy. Kidd is known in history and popular culture as a notorious pirate, but many historians argue that his reputation was unjustified. He was known to have letters of marque, which sanctioned him to rob enemy ships, but he did not have them at the time of his capture. The timing of Kidd's capture was unfortunate, as he was imprisoned only four years after the disappearance of the pirate Henry Avery, whose actions created considerable embarrassment for the East India Company. Avery's piracy in the East Indies enraged Indian moguls and they threatened to close off all trade if the British did not put a stop to it. When Kidd's actions further angered chief traders, the British had to make an example to appease them and Kidd was an easy target. When Kidd realised he was wanted for piracy, he sailed to New York for protection but his main financier, Richard Coote, 1st Earl of Bellomont, betrayed him, luring him to Boston, where he was thrown in jail for two years before his transportation back to England.
Throughout his trial, Kidd maintained his innocence. When he was asked if he had any final words he said: 'I have nothing to say except that I have been sworn against by perjured and wicked people.' Kidd was hanged at Execution Dock in Wapping, where his body remained strung up in the gibbets for three years to serve as a warning to other would-be pirates.
Throughout his trial, rumours of Kidd's treasure circulated in official letters and newspapers. Reports in the Calendar of State Papers detailed the goods belonging to Kidd's ship, including 60 pounds of solid gold and silver ingots, but the whereabouts of these treasures could not be determined. When word of them got out, newspapers began to print rumours of Kidd's lost treasure.
Kidd's life quickly turned into legend after his death. The drama of his execution remained in circulation for many years to come and other pirates continued to reference his death, virtually making Kidd a martyr. In 1720 the Weekly Journal reported a pirate attack led by Captain Thomas Roberts, stating that the pirates stripped the passengers and sailors of their money and effects and stole the ship's artillery and gunpowder. All the while they were reported to be 'cursing, swearing, damning, and blaspheming, to the greatest Degree imaginable'. The pirates paid no heed to what would be the eventual consequences of their actions and declared that they would not be strung up in the gibbets like Kidd and, if they were caught, 'they would immediately put Fire with one of their Pistols to their Powder, and all go merrily to Hell together'.
The tale of Kidd's notorious crimes continued to make its way into popular papers and magazines into the 20th century. Fifty years after his death the Penny London Post published an entire spread detailing his life and condemnation. In addition to this his life story had been made widely available via his public execution, the account of his trial (which sold so many copies it had to be reprinted) and the publication of Captain Johnson's A General History of the Pyrates (1724). Newspaper articles in the late 19th century even played devil's advocate, suggesting Kidd's innocence in an article called 'The Virtuous Captain Kidd', which analysed the possibility that Kidd was made an unfortunate scapegoat by the East India Company to 'avoid foreign embroglios'.
With what may be the discovery of his lost treasure, Kidd has yet again resurfaced in our memory. Physical evidence has not yet been presented, so whether or not the silver ingots found off the coast of Madagascar are actually Kidd's remains to be seen. But the discovery of this loot proves that real pirates who were condemned and executed over 300 years ago are as interesting today as they have ever been.
Rebecca Simon is a PhD student in History at King's College London researching pirate executions.