A Hospital 'Manned by Women'
The First World War offered new opportunities for enterprising female doctors.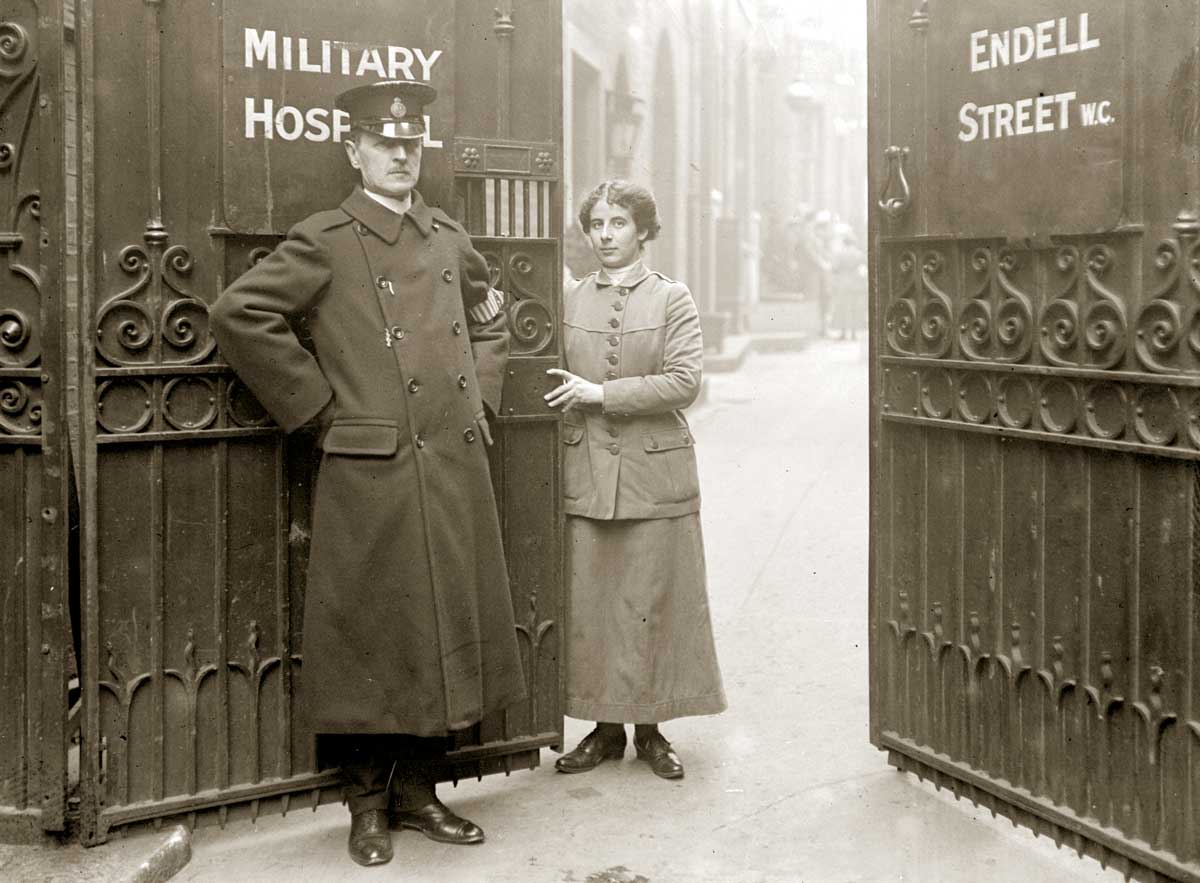 The speed with which the government created NHS Nightingale Hospitals to tackle the coronavirus pandemic has prompted awe – even if they haven't proved as necessary as expected. Yet just over 100 years ago women moved with similarly remarkable speed to set up emergency hospitals when a different crisis engulfed the world.
When war broke out in August 1914 women were just as eager as men to do their bit, but female doctors who volunteered their services to the War Office were rejected. More than 1,000 women had qualified in medicine since Elizabeth Garrett Anderson became the first woman trained in Britain to join the Medical Register in 1865. But nearly five decades on they were still confined to treating women and children and were effectively barred from jobs in general hospitals. War provided an opportunity to prove they were just as capable as their male counterparts.
Louisa Garrett Anderson – the daughter of Elizabeth Garrett Anderson – and Flora Murray were the first to seize that chance. Both doctors and suffragettes (and also life partners), Anderson and Murray did not waste time offering their skills to the army. Instead, just eight days after Britain declared war on Germany, they approached the French Red Cross, who immediately accepted their help. Rallying friends and comrades from the suffragette movement, the pair raised £2,000 for medical equipment, recruited a team of fellow doctors, nurses and orderlies and kitted them out in military-style uniform. Then, on 15 September, they set off from Victoria Station for Paris with their unit of 14 women and four male nurses.
Other female doctors had begun raising funds and recruiting staff for similar expeditions. The Scottish Women's Hospitals (SWH), led by surgeon Elsie Inglis, was busy organising teams of women to set up hospitals in France, Serbia and, later, Russia. The NHS Louisa Jordan Hospital in Glasgow is named after one of the SWH nurses who died in Serbia. But Murray and Anderson's Women's Hospital Corps was the first women-led medical unit to leave for France.
Arriving in Paris, the women were given a luxury hotel, the Hôtel Claridge, as their emergency hospital. Brand new and never opened, the hotel had no lighting, heating or hot water; even the plaster on its walls was still damp. In less than 48 hours the corps had turned the dining rooms into wards and set up 100 camp beds. The ladies' cloakroom was converted into an operating theatre, with a fish kettle for a sterilising unit, while the grill room – designed for rich guests to linger over steak and claret – became a mortuary. That same evening 50 wounded men arrived on stretchers and the surgical team worked through the night.
Murray, a physician and anaesthetist, and Anderson, a surgeon, were woefully unprepared. They had no experience of military surgery and had never operated on men. But then the scale and complexity of the wounds they saw, the majority with gangrene, were new to all surgeons. 'The shell injuries are dreadful & the men come to us worn out after days in the trenches', Anderson told her mother. 'The cases come to us very septic & the wounds are terrible.' They rose to the challenge with alacrity. British Army officials, who came to view the novelty of a women-run hospital, were quickly convinced of their proficiency.
Two months later the Women's Hospital Corps opened a second hospital in a small hotel near Boulogne, which they converted at similar speed into a 60-bed unit. This time they won official status and it became the first women-run medical unit sanctioned by the army. Early in 1915 Murray and Anderson were summoned to the War Office, where Sir Alfred Keogh, head of the Royal Army Medical Corps (RAMC), invited them to run a major military hospital in central London. After closing their units in France, they set to with customary gusto.
In March, the women were given a five-storey former workhouse in Endell Street, Covent Garden, filled with debris and broken furniture. Electric lighting, lifts and cooking facilities had to be installed and everywhere cleared, cleaned and painted. It was 'indescribable chaos', wrote Murray. Yet despite the support of the army's top doctor, they met with hostility and obstruction from the War Office. When they arrived to inspect the site, they were greeted by an RAMC colonel who blurted: 'Good God! Women!' After weeks of slow progress, Murray and Anderson insisted on taking charge of conversion works themselves. They recruited 180 staff, including 14 doctors, 29 trained nurses and more than 80 orderlies – all women – while the RAMC supplied 20 men (later reduced to six).
By early May Endell Street Military Hospital had 17 wards, an operating theatre and an X-ray room, as well as a theatre and a library with 5,000 books. Aware from their experience in France that the men were 'more wounded in their minds than in their bodies', Murray and Anderson ensured the wards were homely and cheerful, with bright quilts and fresh flowers. The grim exercise yard was turned into a tranquil green oasis. Yet when the first wounded arrived, on 12 May, two weeks earlier than expected, workmen were still on site and cutlery had to be hurriedly hired in.
Endell Street stayed open throughout the war, treating 26,000 patients, who arrived in convoys, often in the middle of the night. The hospital 'manned by women' was hailed a triumph by the press and described by its patients as the 'best' in London. Its doctors performed more than 7,000 major operations and pioneered medical advances. When the war ended Endell Street stayed open for a further year, treating the victims of the influenza pandemic. It finally closed its doors in late 1919.
Wendy Moore is author of Endell Street: The Trailblazing Women Who Ran World War One's Most Remarkable Military Hospital (Atlantic, 2020).