Women and the Early Church
Brent Shaw offers a reassessment of the women martyrs and heroines whose activities on behalf of the faith provoked unsettled admiration from the church fathers.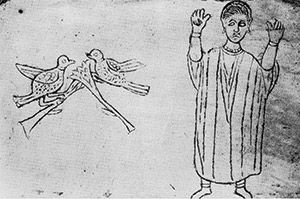 Consider a tombstone from late fifth-century southern Italy: 'Leta, the priest (presbytera), lived 40 years, 8 months, 9 days. Her husband set this up for her'. Or a Latin inscription from Salona in Dalmatia, dated earlier in the same century: 'I Theodosius purchased this grave plot from the holy priest (presbytera sancta) Flavia Vitalia for three gold pieces'. Two notices that would seem to attest the existence of female priests – not unusual in the world of Graeco-Roman antiquity, except that these women were Christians. As late as the fifth and sixth centuries AD women like these were found exercising priestly authority in Christian churches in locales as diverse as the cities of Asia Minor, Greece, Gaul, Sicily and southern Italy. It is also known how very unusual most of these cases were.