William Hogarth dies in London
The artist died on October 26th, 1764.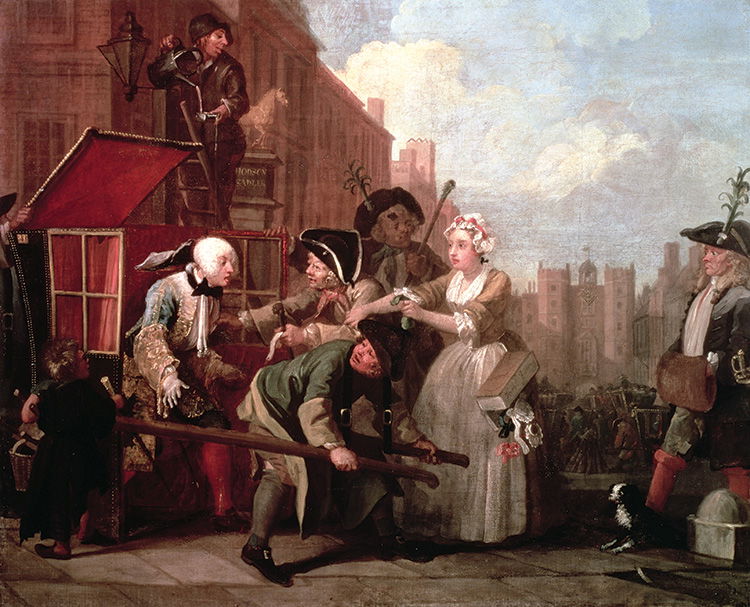 A Londoner to his fingertips, Hogarth was born in Bartholomew Close near Smithfield Market in 1697. His father, Richard Hogarth, was a schoolmaster who taught classics and wrote textbooks that failed to attract attention and then opened a coffee house, which collapsed and left him sentenced to the Fleet Prison for debt. 
The humiliation of it all seems to have helped to make young William exceptionally self-reliant. When he was about 15 he was apprenticed to a silversmith, who taught him to engrave heraldic designs on gold and silver articles. He did not consider it a worthwhile occupation and in his early 20s he took drawing lessons and earned a living as an engraver producing trade cards, tickets and book illustrations. A key moment came in 1724 when he attended a drawing school run by Sir James Thornhill, an eminent history painter whose works included the paintings on the inside of the dome of St Paul's Cathedral. Hogarth greatly admired Thornhill. He admired Thornhill's daughter Jane as well and in 1729 the two of them eloped together and got married.    
In the 1730s, while scratching a living painting portraits, Hogarth began to create narrative scenes from everyday life. It was these that led him to his greatest achievements, artworks that were brilliantly vivid stories about the real lives of Londoners. With humour allied to a strong moral attitude, they were a tremendous success and made him plenty of money, though the English art world tended to look down on them. Years later he wrote that his pictures taught lessons that could not be 'conveyed to the mind with such precision and truth by any words whatsoever'.  
His first big hit was A Harlot's Progress in 1731, which in six scenes told the story of a country girl who arrives in London, is snapped up by a procuress, becomes a prostitute and dies of venereal disease aged 23. In 1735 came A Rake's Progress, its eight scenes telling the tale of Tom Rakewell, who inherits his wealthy merchant father's fortune. He hurls the money away on luxurious living, paid-for sex and gambling. Some of the people who separate Tom from his money were real, well-known figures of the time and the episodes include a drunken scene at the notorious Rose Tavern in Drury Lane, known for its enticing 'painted beauties'. In the end, when Tom has thrown all his money away, he is confined in the Bethlem Royal Hospital for the Insane, known as Bedlam, where he dies.
One of Hogath's most admired creations is Marriage à la Mode, a series of scenes completed in 1745 and a scathing attack on aspects of contemporary society. It is the story of the young son of a bankrupt nobleman, who arranges a marriage of convenience for him to the daughter of a rich City merchant. The son and his wife, joined without the slightest affection between them, quickly become utterly bored with each other and in the end the son is murdered by his wife's lover and the wife kills herself after her lover is hanged at Tyburn.
The celebrated Gin Lane of 1751 was a ferocious assault on what Hogarth called 'the dreadful consequences of gin-drinking' that had become a raging epidemic among Londoners of the lower orders. 
Hogarth produced plenty of other work, including portraits and history paintings, but it is his narrative art for which he has always been specially famous. From 1736 he and Jane had a house in Leicester Fields (now Leicester Square). In 1749 they bought a modest country retreat outside London near the parish church in Chiswick. It is now Hogarth House in Hogarth Lane near the Hogarth Roundabout. 
His health grew worse in his later years and he had a stroke in 1763. He and Jane were at the Chiswick house one day in October 1764 when Hogarth needed to go back briefly to the Leicester Fields house in London, while Jane stayed in Chiswick. He was in a cheerful mood, but in the night he woke in agony with pains in his chest and died a few hours later of what the doctors diagnosed as a ruptured artery. He was two weeks short of his 67th birthday. 
His body was taken to Chiswick and he was buried on November 2nd in the nearby church of St Nicholas, where his tomb, surmounted by a graceful urn atop a pedestal, is still to be seen in the churchyard. The poetic inscription by his friend David Garrick, the actor, begins: 'Farewell, great Painter of Mankind who reached the noblest point of Art …' Jane lived on at Hogarth House until her own death in 1789, when she was buried with her husband. The house has been preserved as a museum and is open to the public.