William 'Buffalo Bill' Cody dies
The frontiersman and showman died on January 10, 1917.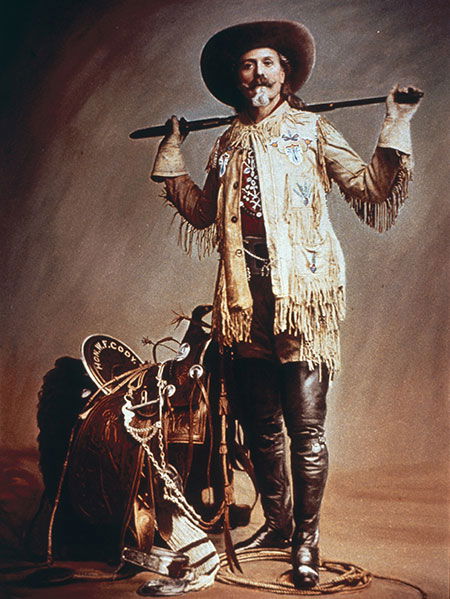 The ultimate entertainer, 'Buffalo Bill' was as much showman as he was frontiersman and helped create a fantastical image of the Wild West. 
Born to a farming family on February 26th, 1846, Cody spent his early years in Iowa, working in a variety of short-lived jobs: joining parties hunting for gold and riding for the Pony Express. During the Civil War, he was part of a group of anti-slavery guerrillas in Kansas, which led to him joining the Seventh Kansas Volunteer Cavalry in 1864. As it expanded through the West, the railroad company hired him to provide meat for their workers, for which he killed up to 12 buffalo a day. It was for this that he earned the name 'Buffalo Bill'.
In July 1869 he met the dime novelist Ned Buntline, who interviewed him and wrote a serial for the New York Weekly. Although titled 'Buffalo Bill, the King of Border Men' and billed as 'the wildest and truest story he ever wrote', it was mostly based on the life of 'Wild Bill' Hickock.
In 1872, following Buntline's suggestion, Cody made his first appearance in a play, The Scouts of the Prairie. For the next few years he switched between scouting for the army, guiding hunting parties and touring in plays. On occasion his activities on the frontier – such as his role in the death of Cheyenne chief Yellow Hand during the Sioux War of 1876 – became source material, helping to build his legend. 
Off the back of his growing popularity, Cody produced his Buffalo Bill Wild West show in 1883. Like a circus with its attractions, it recreated the Pony Express, Indian attacks on wagon trains, sharpshooters and parades of costumed groups on horseback. Huge audiences came to watch fantastic battles and dramatic deaths, with performers playing it up for the enthusiastic crowds. It featured such personalities as Annie Oakley and the Sioux chief Sitting Bull, but Cody was its star attraction.
The show peaked at the 1893 World's Fair in Chicago, where it attracted six million people. Cody continued to star in the show until his retirement in 1912.
He died in Denver, where 25,000 people paid respects to his coffin and was buried six months later in a steel vault on Lookout Mountain overlooking the city. He remains synonymous with the image of the Wild West.