Wallace and Bruce: Scotland's Uneasy Heroes
Was Bruce as patriotic or as harmonious in his relationship with Wallace as the view of historical romance has handed down? Andrew Fisher investigates the meaning of patriotism in 14th-century Scotland and suggests the tradition needs revising.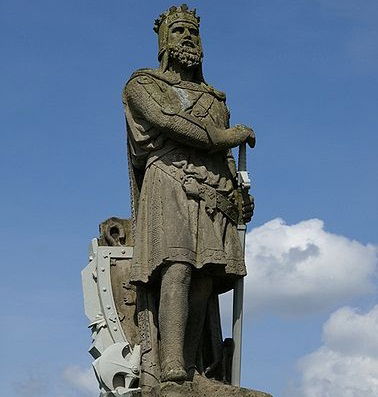 Towards the end of February 1304 an English mounted force under the joint command of John Segrave, William Latimer, and Robert Clifford, made a foray from Dunfermline, where Edward I had chosen to spend the winter, into the south-east of Scotland, in a determined bid to seize William Wallace and Simon Fraser, the last Scots of any consequence to continue the resistance to Edward. With the English on this occasion was Robert Bruce, keeper for Edward of the castle of Ayr, Earl of Carrick, and the future king, Robert I.
The mission had been planned by John de Botetourt, Edward's natural son, and there was about it a sense of urgency and secrecy because of a fear that knowledge of it might be betrayed to those against whom it was directed. In a clash which took place a few miles to the west of Peebles, Wallace and Fraser escaped, although their troops were routed. On March 3rd, Edward, reflecting in a letter to Bruce on what had happened at Peebles, conjured up a homely phrase to encourage him in his efforts against the patriots: 'As the cloak has been well made, make the hood also'. Bruce could count himself fortunate in the mildness of Edward's reaction to what had been a failure. At much the same time, Patrick, Earl of March, like Bruce a supporter of the English cause, was being chastised by Edward for his apparent lack of enthusiasm.