Nigel Watson recalls a mysterious explosion that occurred in deepest Siberia in June 1908.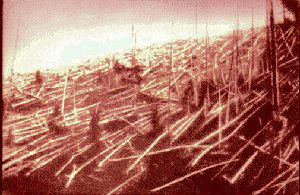 At 7.17am on June 30th, 1908, a huge object exploded six miles above the Stony Tunguska River area, central Siberia, causing an atmospheric shockwave that circled the Earth twice. For the following two nights the skies of Europe and Asia were unusually bright. The glare in the sky was compared to the atmospheric effects that followed the volcanic eruption at Krakatoa in 1883.
In 1921, Leonid Kulik, a geologist at the Mineralogical Museum of the Soviet Academy of Sciences, came across an old newspaper clipping about the explosion. He travelled to Kansk hoping to find a giant meteorite that the newspaper said was buried nearby, but on examination it was merely a natural rock that was wrongly attributed to the event.
Over the following years more eyewitness testimony was collected and it was anticipated that a huge crater and meteorite was likely to be found in the area. Kulik obtained funding for a proper expedition in 1927; he had to use horses and then sledges pulled by reindeer to traverse 435 miles of frozen countryside. Using local guides he found a vast area of trees knocked down and uprooted as if dashed down by a giant hand. Odd clumps of trees remained standing but they were stripped of bark and foliage.
As they got closer to the epicentre of this devastation Kulik's guides abandoned him, overcome by superstitious fears. The indigenous Evenki people believed that Ogda, the god of fire and thunder, had returned to strike them down with invisible fire.