Constructing the Victoria Embankment on the north bank of the River Thames in London: an image analysed by Roger Hudson.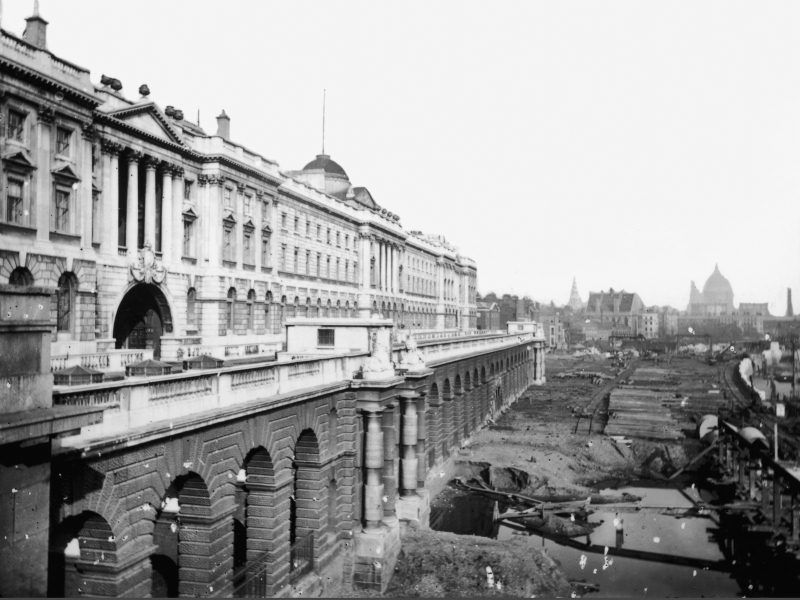 This view of Somerset House on the north bank of the Thames, looking downstream towards the dome of St Paul's, was taken a year or two after the start of one of the great feats of Victorian civil engineering, the building of the Victoria Embankment, visible in the right half of the picture.
Work started in 1864 and was completed in 1870, but the story really began in 1855 with the creation of the Metropolitan Board of Works to try to improve London's sanitation and street systems. The board's chance came when the dry summer of 1858 created what was known as the Great Stink. The Thames at Westminster was so smelly from the raw sewage pouring straight into it that the atmosphere in the Houses of Parliament became intolerable. Joseph Bazalgette put forward a plan for a new sewer flowing from west to east into which all the existing sewers would empty, rather than into the river. The contents would then be taken well to the east of the City before being dealt with at new sewage works. Embankment walls were to be built close to the low-water mark and the area behind them infilled. This made space not only for the sewer but also for a road and for the new, partially underground, District Line as well. Stretches of garden were created along the Embankment, using subsoil and topsoil excavated for the railway and brought up by barge from Barking Creek. The railway lines visible in the photograph are temporary tracks laid by the contractors.