Olivia Williams takes issue with some of the wilder assertions and anachronisms contained in Thomas Maples' otherwise engaging 1991 article on the 18th-century gin craze.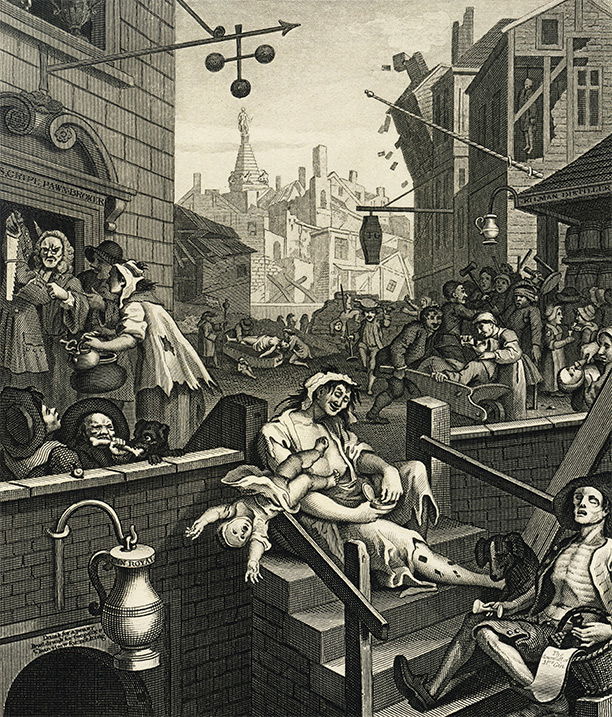 The gin craze, London's first binge drinking crisis, is prone to oversimplification: partly because it makes for an irresistibly dramatic story and also because it inspired vivid portrayals among contemporary writers and artists. It is all too easy to be swept along on a wave of juniper-scented, 18th-century hysteria.
Thomas Maples wrote an entertaining overview of the period for History Today in 1991, but there are nuances that need restoring to the narrative. The 'invention' of gin is certainly not as clear cut as stating that we owe it to Franciscus de la Boe, a professor at the University of Leiden from 1658 to 1672. It was rumoured for a long time that de la Boe was the first to introduce juniper berries to alcohol, in the hope of treating kidney and bladder complaints. However, there has yet to be a mention of this discovery found in his papers, which would be a surprising omission on his part. In any case the 1650s seem too late a date, because even in Britain there were already similar spirits being made on a small scale for medicinal purposes.  
That de la Boe invented gin and Charles I promoted it in Britain seems contradictory. Charles I did grant a Royal Charter to the Worshipful Company of Distillers, giving them the power to run a monopoly of those making 'Aqua Vitae, Aqua Composita and other strong and hot waters' and that is what they made, not gin. The company described itself as supplying 'those that be aged and weak in time of sudden qualms and pangs' and the 'King's ships and merchant ships for use shipboard and for the sale to foreign nations'. The aqua vitae often contained a range of aromatic and expensive ingredients, including rue, sage, lavender, thistle, valerian, sandalwood, saffron and cinnamon, of which juniper may have been just one. Calling any spirits containing juniper 'gin' gives the wrong impression that these spirits were recreational and surely undermines the idea that it was invented in Leiden.
It is tempting to interpret lively cultural depictions of the gin craze as fact. We have to be careful, for example, about overstating the prevalence of 'Drunk for a penny/ Dead drunk for two pence/ Clean straw for nothing'. Because the slogan features as an evocative detail in William Hogarth's Gin Lane etching, it has since been assumed to be a general feature of gin shops: Hogarth was apparently inspired by one gin shop that he apparently saw in Southwark, but so far that is all we know. There are other hints at overstatement by Maples. The High Constable of Holborn reported 7,066 gin shops in his patch alone, meaning that roughly one house in every five was waiting to relieve Londoners of their meagre wages. However, we cannot be certain that this was true for all of London, as Maples asserts, particularly as Holborn was known to be the heart of the phenomenon. 
After decades of gin-fuelled chaos in London from the 1690s, Parliament passed a draconian act in 1736 that was tantamount to prohibition. It was not that prime minister Robert Walpole was answering his critics as such, which Maples suggests. Walpole himself had misgivings over the harsh measures and doubled the number of guards on duty at St James's, Kensington and Whitehall for fear of rioting.
There are a few anachronisms from Maples that need addressing, too, with the mention of 'speakeasies', 'citizens' and the 'working class'. None of these are terms that 18th-century Londoners would have recognised. 
 Ending with the 'demise' of gin is not appropriate either; it just changed. It remained popular among the working poor for centuries to come. One seasonally appropriate reference to gin's continued popularity comes from 1843. Bob Cratchit, the impoverished hero of Charles Dickens' A Christmas Carol, puts together a festive gin punch for his family, with touching relish: 
Turning up his cuffs – as if, poor fellow, they were capable of being made any more shabby – [he] compounded some hot mixture in a jug with gin and lemons and stirred it round and round and put it on the hob to simmer. 
Gin was down in the 1750s, but it was certainly not out.
Olivia Williams is the author of Gin Glorious Gin: How Mother's Ruin Became the Spirit of London (Headline, 2014).