As interest in the Protector grows, the axe hangs over his former school.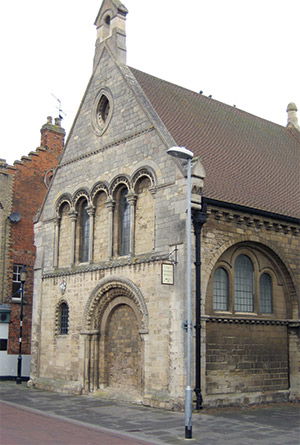 There is a sense of excitement in the world of Cromwell studies at the moment. A high-profile project to publish all of Oliver Cromwell's letters and speeches, published by Oxford University Press with Professor John Morrill as general editor, is nearing completion. New books and articles are coming thick and fast, with areas of particular interest including Cromwell's early life in East Anglia, his notorious career as a soldier in Ireland and various aspects of his period as Lord Protector during the 1650s. Outside academia, interest in Cromwell is also running high. He appears with surprising regularity in political discourse. During the expenses scandal at the House of Commons in 2009 parallels were drawn with the corrupt Rump Parliament, forcibly dissolved by Cromwell in 1653. The Sun even used his ringing cry of 'In the name of God, go!' on its front cover. In December 2013 the Russian president Vladimir Putin caused much head-scratching when he likened Cromwell to Stalin. Such references only work because Cromwell is one of the few historical figures known to the general public. In the run up to the year 2000 he was voted the third greatest Briton of the millennium in a BBC Radio 4 poll and shortly afterwards was named the tenth greatest Briton of all time by BBC TV. Membership of the Cromwell Association, founded in 1937 to promote interest in Cromwell and his times, has grown markedly in the last couple of years and a recent study day on the thorny topic of 'Cromwell and Ireland' was full to capacity. Cromwell features in the National Curriculum and is a popular choice for A-Level. Love him or loathe him, there is no ignoring his importance.
Amid all this interest, it seems odd that Cambridgeshire County Council plans to close the Cromwell Museum in Huntingdon. The museum was founded by the then Huntingdonshire County Council in 1962. It is supported by the local authority 'for the enjoyment and benefit, educational and economic, of the local community' and to 'sustain a lively, well-informed and wide-ranging debate of Cromwell's significance both locally and nationally', according to its mission statement. It has certainly lived up to that aspiration, receiving around 11,000 visitors a year, nearly half of whom come from within Cambridgeshire. It also attracts a national and international audience, from scholars to schoolchildren. One reason for the museum's popularity is the quality of its exhibits. Many items are on loan from descendants of Cromwell, who have generously allowed collections of letters and documents, personal items such as seals, jewellery and swords, paintings and engravings, coins and medals, to be displayed. Among the portraits in the collection is one of Cromwell by Robert Walker that is known to have been owned by his son-in-law, Henry Ireton. The collection also includes the 'robe sword' worn by Cromwell when he was re-inaugurated as Lord Protector in 1657. For many the star exhibit is the extraordinary Florentine pietre-dure cabinet of inlaid hardwood, still containing its original glass pots of soaps and cosmetics, given to Cromwell by the Grand Duke of Tuscany.
The setting of the museum is also important, for it is housed in the oldest building in the town, part of the 12th-century hospital of St John the Baptist, which became the town's grammar school after the Reformation and is now grade two listed. It was this school that Cromwell himself attended when he was growing up in Huntingdon. The museum does not just provide a static display of objects, it also puts on special exhibitions and employs craftsmen and re-enactors to give a flavour of what life was like in Huntingdon during the 17th century. It is in many ways the cultural hub of the town.
So why do the council want to close such an important museum? The simple answer is budget savings. Faced with a serious shortfall, cuts have to be made across those services that are not ring-fenced. Closing the museum would save the council £20,000 a year. Nor is there an obvious Plan B. Previous investigations into alternative provision – setting up a trust, using volunteers instead of employees – have not been encouraging and such schemes seem unlikely to succeed now. So it looks as if the Cromwell Museum will have to close.
In August 1650, when addressing another intransigent body – the General Assembly of the Scottish Kirk – Oliver Cromwell begged them to 'think it possible you may be mistaken'. We can only hope similar pleas will be heeded by Cambridgeshire County Council in 2014.