David Childs argues that Mary Rose, the Tudor battleship which was raised from the depths in 1982, represented the beginning of British naval greatness.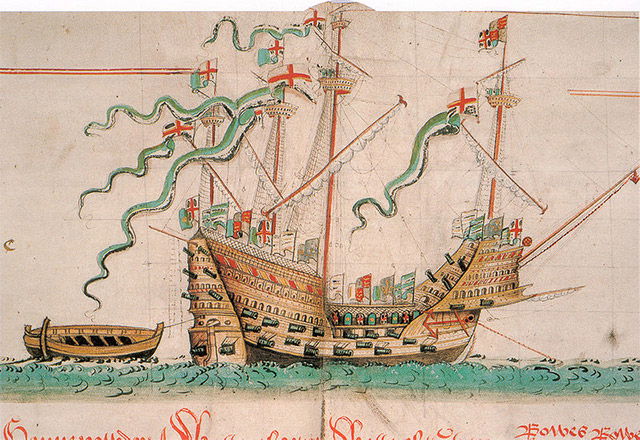 People around the world still recall October 11th, 1982, when they sat glued to their televisions to watch the remains of Henry VIII's flagship Mary Rose, being recovered from the bottom of the Solent where she had sunk 437 years previously, going into battle in 1545 against a large French invasion force. So  memorable was this event that many still believe that the ship sank on her maiden voyage, not realising that she had over thirty-five years of naval service to her credit, having been ordered by the King shortly after his succession in preparation for the war against France that he considered inevitable. 
Indeed, Mary Rose fought in three wars against the French and one against the Scots. Moreover, she played a major part in the creation of the standing navy that became the Royal Navy. As such she represents the birth of England's, and then Britain's, naval greatness.
In fact, Mary Rose has many claims to primacy among historic naval vessels.  She was a very early example of an English carvel built warship whose smooth sides enabled her to be the first such ship to be built with gunports below the main deck. This meant that she could carry more and heavier guns, especially of the bronze-muzzle loaders mounted specifically to be fitted in ships. The gun-ports of Mary Rose thus mark the start of a broadside gunnery tradition in the Royal Navy that reached its apotheosis with Nelson's navy and lasted until HMS Warrior entered the reserve fleet in the 1890s.