Kerry Ellis recalls the remarkable career of the Englishwoman who saw it as her destiny to establish a pro-British monarchy in Iraq.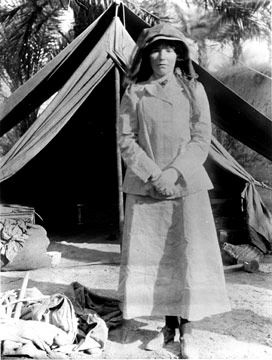 In April 2003, reports concerning the looting of Baghdad Museum reached the West and provoked outrage from academics and laymen alike. While the argument still rages over whether the looting was in fact as widespread or as malicious as first reported, one fact remains. Gertrude would have been furious.
Gertrude Bell (1868-1926), granddaughter of renowned scientist, industrialist and ironmaster Isaac Lowthian Bell, was the first woman to graduate from Oxford with a First in Modern History. Her acumen was matched by her determination, and Gertrude was determined to travel. Her uncle, Frank Lascalles, had been appointed British envoy to the Shahanshah of Persia, and a visit was arranged.
Gertrude arrived in Teheran in May 1892 with her aunt. Her first letter home was jubilant. 'Oh the desert around Tehran!' she wrote: