Punishment in the First World War
Humiliating, painful and reminiscent of crucifixion, the British army's Field Punishment No 1 fuelled public outrage during the First World War, as Clive Emsley explains.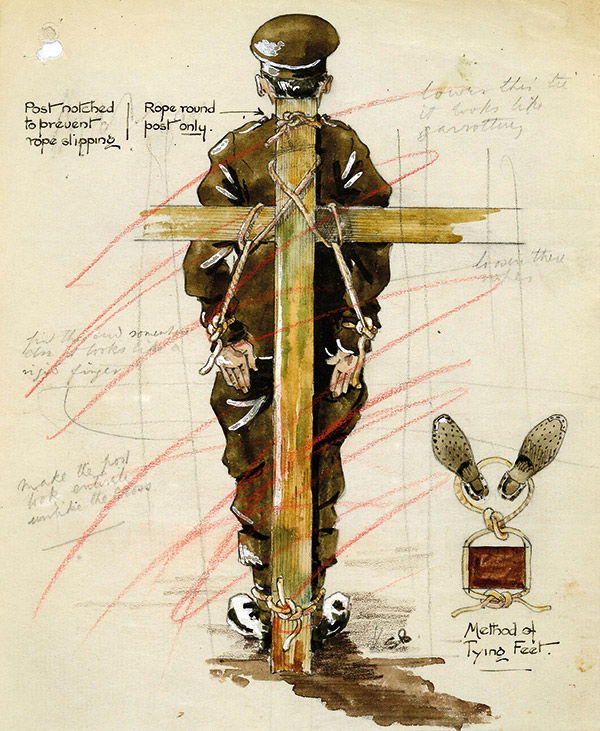 On October 29th, 1916 the Illustrated Sunday Herald carried an article on punishment in the British army. The article was a condemnation of Field Punishment Number 1, commonly known among the rank and file as 'crucifixion'. The headline asked: 'Why "Crucify" Tommy?' The article had been written by Robert Blatchford, a campaigning journalist who had been a sergeant in the army and who, in the run-up to the First World War, had broken with British socialists over what he considered to be a serious threat from Germany. He could not easily be written off as an unpatriotic 'crank', like those who usually raised their voices in criticism of military policies, particularly conscription, during the war.
Blatchford began his criticism by quoting a letter that he had received describing the punishment meted out to half-a-dozen Liverpool 'Pals', who had lost their gas helmets in a marsh. 'They were tied by the neck, waist, hands and feet to wheels for one hour', explained his correspondent. One of them died. For Blatchford the punishment was 'Boche-like'; a 'Hun-like torture' authorised by 'doltish martinets'. He noted that severe floggings had been inflicted 100 years earlier and that these had been defended by 'the mentally constipated military boobies of the day'. He stressed that the army currently fighting in France and elsewhere was made up of patriotic volunteers, who had left decent jobs for the good of their country. Moreover, the army was 'the King's Service … not a reformatory for the punishment and reclamation of refractory hooligans and thieves'.