Premiere of Gone With the Wind
The much-loved film first appeared in theatres on December 15th, 1939.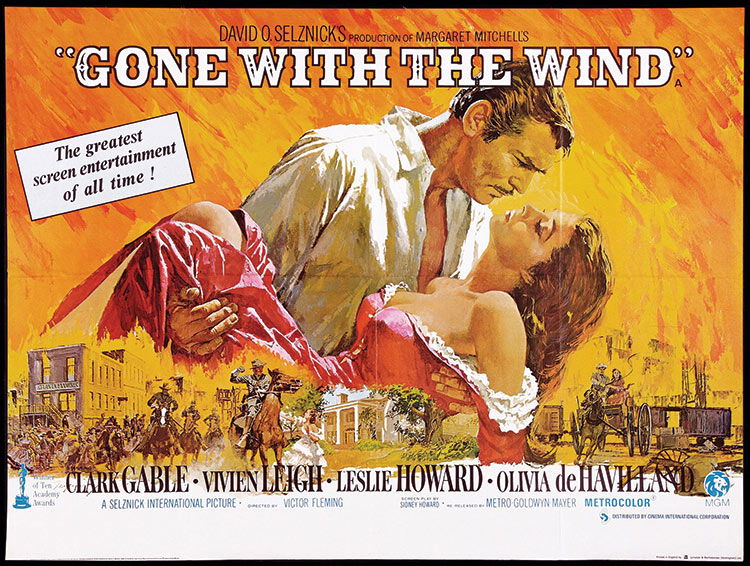 Clothed in superlatives, it is one of the best-loved films ever made and still reportedly, after allowing for inflation, the most profitable. Sidney Howard's script was so long that the movie would have lasted more than six hours and even revised by an army of writers it ran well over three hours and had to be shown with an interval.
Margaret Mitchell's Pulitzer Prize-winning novel of the Deep South and the American Civil War came out in 1936. The film rights were snapped up by the Hollywood producer David O. Selznick. Hundreds of women were considered to play the heroine, Scarlett O'Hara, until Selznick settled on the 22-year-old Vivien Leigh, who he had seen in English-made films, Fire Over England and A Yank at Oxford. He was determined to get Clark Gable for the crucial role of Rhett Butler and succeeded after negotiations with his father-in-law, Louis B. Mayer of MGM, which lent him Gable and contributed over $1 million to the budget in return for a half share of the profits. The principal director was Victor Fleming, though after a time he collapsed from exhaustion.
Filming lasted from January 1939, when the scene of the burning of Atlanta was shot, to the end of June, with post-production work running on into November. Selznick said the responses from preview audiences were probably the most amazing any picture had ever received. The premiere in Atlanta drew a million people to the city and in 1940 the film won a then record haul of Academy Awards, including Best Picture, Best Actress for Vivien Leigh, Best Director for Fleming and Best Supporting Actress for Hattie McDaniel, the first ever Oscar for a black American actor, who played Scarlett's maid Mammy. It is estimated that in its first four years in the US Gone With the Wind sold 60 million tickets to the equivalent of half the population.