Premiere of Beethoven's Violin Concerto
The premiere of Beethoven's Violin Concerto at the Vienna opera house on December 23rd, 1806, was not a success.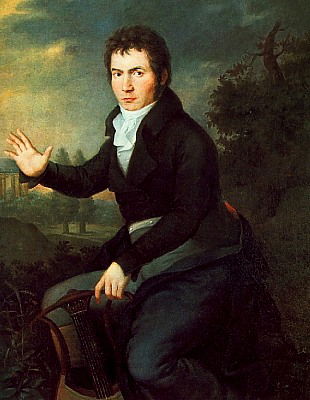 War with France put a damper on social and artistic life in Vienna in the summer of 1806, but winter brought a revival and the first large-scale orchestral concert was given by the violinist Franz Clement, a friend of Beethoven's, leader of the Vienna Opera orchestra and a much admired former child prodigy. Now twenty-six, he was famous for his technical skill and his amazing memory. Beethoven wrote the violin concerto specially for the event, and quickly, it seems.
The composer had spent some of the summer at the country house of his Hungarian aristocratic friends the Brunsvik family, enjoying the company of their two delightful elder daughters, Therese and Josephine. He cherished particularly warm feelings for the widowed Josephine, and she for him. They wrote each other affectionate letters and it seems he proposed marriage, but she said no. When she did marry again, in 1810, it was unhappily.
Meanwhile Beethoven went on to the Silesian estate of his patron Prince Lichnowsky and was furious to find him entertaining some French officers. He stalked off in a rage to find a room in the nearest town. 'There have been and will be thousands of princes,' he later famously said, 'there is only one Beethoven.' Goethe would subsequently describe him as 'an utterly untamed personality'.
The concerto was one product of the untamed personality's colossal eruption of creative energy in the years from 1803, which included the third ('Eroica') symphony, the Apassionata piano sonata, the opera Fidelio, the Razumovsky quartets, the fourth piano concerto and the fourth symphony. At the premiere Beethoven had just passed his thirty-sixth birthday, but was already troubled with deafness.
The premiere at the Vienna opera house was not a success. The concerto was not ready until the last moment – two days before, apparently –  and Clement had largely to sight-read it. Living up to his reputation for showing off, between the first and second movements he entertained the audience by playing music of his own on the violin upside down. Perhaps he realized that the concerto itself was not going down well. Today it is praised as a masterpiece of tenderness and serenity, but critics at the time thought it too long and violinists complained it was too difficult. The composer rewrote it as a piano concerto, but in that form it sank without trace and its quality was not recognized in Beethoven's lifetime.