Philip the Bold becomes Duke of Burgundy
France's 'First Peer' was created on 6 September 1363.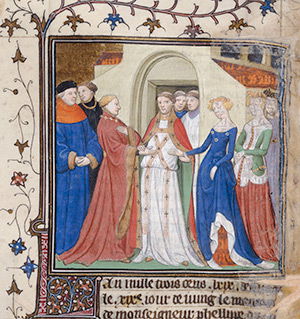 For a hundred years or so in the 14th and 15th centuries the Dukes of Burgundy ruled in power and splendour rivalling that of kings. A year before his own death John II of France bestowed Burgundy on his fourth and youngest son Philip and named him First Peer of France. By the age of 21 Philip was known as Le Hardi ('the Bold') for his bravery at the age of 14 in battle at Poitiers in 1356, where he was wounded and he and his father were captured by the English under the Black Prince. In not uncomfortable captivity in England Philip spent time learning the art of falconry and playing the Black Prince at chess. In 1360 he and his father were returned to France on payment of a colossal ransom.
When John died in 1364 he was succeeded by Philip's eldest brother as Charles V. He confirmed Philip as Duke of Burgundy and went on to organise Philip's marriage to Margaret, daughter and heiress of the Count of Flanders. This was important for France, to prevent the English from snapping her up, as they were trying to do, but was to prove hugely advantageous to Philip as well. After lengthy negotiations the wedding was celebrated in Ghent in 1369. The groom was 27 and the bride 19. Philip took care to make the proceedings as extravagant as possible. He arrived with French heralds and musicians to make a splendid show and gifts rained down on Flemish noblemen and the court officials, while nobles, knights and leading citizens were entertained at opulent banquets. It was a foretaste of the way Philip was to behave all his life and won him the admiration of his future subjects.
Philip visited Flanders frequently, intervened effectively in Flemish politics and provided lavish entertainments, including spectacular tournaments. Four other dukes, of Lancaster (John of Gaunt), Brittany, Anjou and Brabant, as well as the Count of Flanders himself, attended one at Ghent in 1376 and Philip took part in crossbow contests with the locals in Ghent and Bruges, providing plenty of wine for the competitors. The Count of Flanders died in 1384 and Philip took possession of Flanders and Franche-Comté, east of Burgundy, in right of his wife and went on to acquire more territory in the Low Countries. Flanders had grown rich on the cloth trade and Philip took care to nourish Flemish prosperity and run an efficient state.
In France, meanwhile, Charles V had died in 1380. His son and successor, Charles VI, was only 11 and France was run principally by Philip and his other brothers until their nephew took control for himself in 1388. After a few years, however, Charles began to suffer fits of murderous insanity. The first occurred in 1392 during a military expedition against Brittany, when he suddenly went berserk, drew his sword and killed several of his own knights. He had to be wrestled to the ground. The attacks of madness continued and the unfortunate king would run along his palace corridors howling like a wolf, completely forget his name and who he was or sometimes decide that his body was made of glass.
Philip acted decisively from the start, took command of affairs and declared himself regent. Despite persistent opposition from another nephew, Charles VI's brother the Duke of Orleans, Philip made himself the virtual ruler of France. In 1396 he succeeded in negotiating an agreement with Richard II of England, which brought a temporary halt to the Hundred Years War. The truce lasted for 28 years. In the same year Philip lavished a fortune on financing his eldest son John's abortive crusade against the Ottoman Turks. John and his retinue were fitted out in a splendour of gold and silver, with cartloads of tents and pavilions in green satin, four giant banners of the Virgin Mary created by a leading French artist, Colart de Laon, trumpeters in heraldic finery and a special range of portable kitchen equipment.
Philip siphoned off quantities of money from the French treasury and was a cultivated enthusiast for the arts. Besides a cup that had allegedly belonged to Julius Caesar, he collected jewelled crucifixes, gold statues of saints and tapestries on religious and secular themes. His illuminated books and manuscripts included the famous 13th-century Psalter of St Louis and he commissioned many works from writers, painters and sculptors of the day.   
Philip was 62 when he died at Halle near Brussels in 1404. As his biographer Richard Vaughan summed him up, he had brought the Burgundian state into being and equipped it with a brilliant court and aesthetic trappings second to none. 'His successors had only to follow in his footsteps