Visiting sites of importance can connect us with history – and each other – in a way that echoes the power of medieval pilgrimage.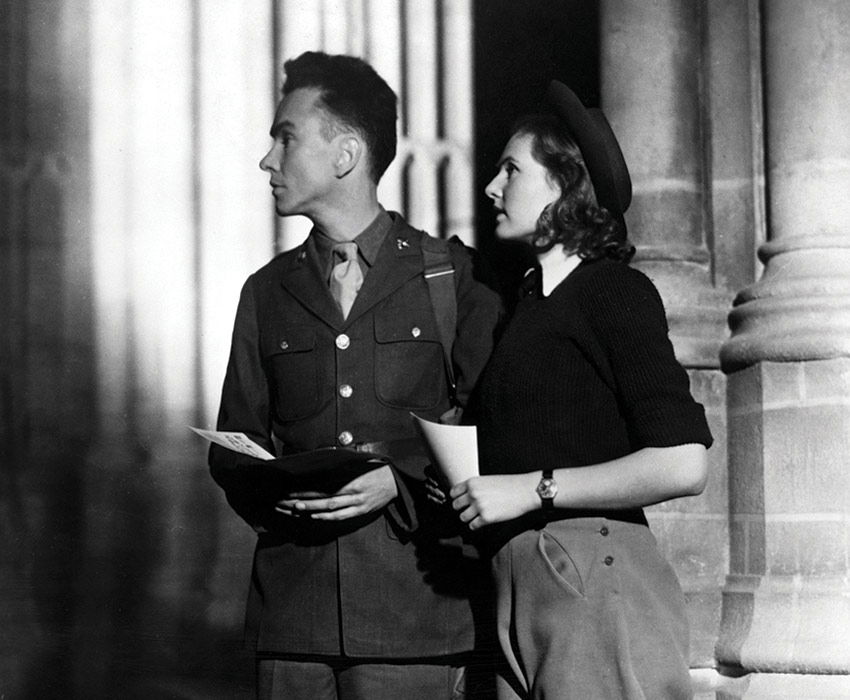 My favourite moment in my favourite film occurs towards the end of Michael Powell and Emeric Pressburger's 1944 classic A Canterbury Tale. A young American soldier, visiting wartime Canterbury when he would much rather be at home, wanders into the city's cathedral. He looks around him, up into the soaring space of the great building, and under his breath he reminds himself that his grandfather built the first Baptist church in his hometown in 1887. 'Well, that was a good job too,' he says.
It is a reaction of mingled awe and pride: gazing with wonder at the ancient cathedral, he admires it by calling to mind his own home and a humbler but still precious building. In this foreign country, he finds a parallel between the old world and the new, the strange and the familiar and the craftsmanship which built both churches.
That kind of parallel between past and present is at the heart of this film, which reimagines Chaucer's medieval pilgrims as three modern characters, brought to the Kent countryside and bomb-damaged Canterbury by necessity, not choice: the homesick GI, a cynical soldier who used to dream of being an organist and a Land Girl stoically mourning her lost fiancé.
It must be one of the greatest films ever made about the imaginative power of history, the emotional and spiritual draw of the past. As a response to The Canterbury Tales, it is both playful and sensitive; Chaucer's characters appear briefly, a jolly band of pilgrims laughing as they ride through the countryside. The film's wonderfully resolute heroine, Alison, shares her name with the Wife of Bath, and her fiancé (with whom she has stayed on the Pilgrims' Way) is named Geoffrey, a nod to Chaucer himself. The film is fascinated by the idea that Chaucer's pilgrims are somehow eternally travelling through the English landscape, just out of sight – if you turn your head, you might see them on the road behind you.
But even while it namechecks Chaucer, in some ways this film takes the idea of pilgrimage, and its potential as a metaphor, more seriously than Chaucer himself ever does. In Chaucer's poem we never really find out why his pilgrims are going to Canterbury or what blessings they hope to receive at St Thomas Becket's shrine; the poem only tells us about a desire for travel inspired by the spring, the spirit of April when 'longen folk to goon on pilgrimages'.
In the film, though, we are shown what is missing in the lives of the central characters, what they have lost and need to find again. A visit to Canterbury Cathedral brings them these blessings and the film hints that all kinds of experience – visiting the Agricultural Committee, solving a local mystery, even watching a film – can become a kind of unexpected pilgrimage.
It is unusual to find a work of art which engages so thoughtfully with this particular form of medieval devotion. Today the pilgrims who sought holy shrines are regularly dismissed as worldly, superstitious and silly – in part because of the lasting influence of Chaucer's own satire, which has often been taken too literally by later readers. But this film finds points of connection between medieval pilgrims and the 20th-century travellers, for whom a mystical sense of history acts as a kind of substitute for religious faith.
This imaginative sympathy with people in the past is extended to the present, seen to be especially important in a world being rapidly and violently changed by war. The film presents a collision between an ancient, rural way of life and the modern world, but manages to honour the people of both, repeatedly staging encounters where those on each side recognise a connection with the other and find something to respect. Though in love with history and the old world, it suggests that some changes are for the better, as we see in one sequence (not unlike Chaucer's panoramic General Prologue) where a succession of efficient women are shown doing all kinds of jobs while the men are at war.
The film enjoys the energy and independence of its young urban characters, while also celebrating the skills, wit and rootedness of the older rural ones, showing what they can learn from each other. There is a rare generosity of spirit in that – as relevant today as in 1944 – and a willingness to search for common ground. That common ground is the Pilgrims' Way itself, where people from all walks of life may find themselves unexpectedly travelling in fellowship.
Eleanor Parker is Lecturer in Medieval English Literature at Brasenose College, Oxford and writes a blog at aclerkofoxford.blogspot.co.uk.