The Premiere of The Wizard of Oz
The much-loved film first appeared on August 12th, 1939.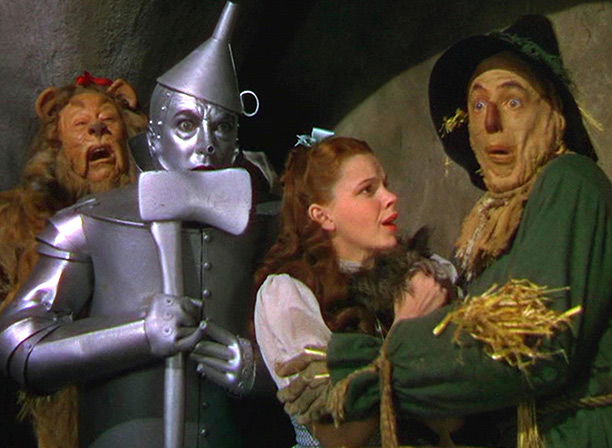 Premiered at Grauman's Chinese Theatre in Los Angeles, The Wizard of Oz was one of the best-loved Hollywood films ever made. It was the most expensive movie Metro-Goldwyn-Mayer had produced to date and it made an international star of Judy Garland, who had begun life with the not wildly glamorous name of Frances Gumm, but endowed with a compelling singing voice. MGM signed her aged 13 in 1935 and did its utmost to pretend that she was still a young teenager when she played the role of the film's 12-year-old heroine, Dorothy Gale, who with her dog Toto is blown away by a whirlwind to Oz in Munchkin Land. Following the yellow brick road to find the Wizard of Oz, who she hopes will use his magic to send her home, she falls in with the Scarecrow, Tin Man and Cowardly Lion (played by Ray Bolger, Jack Haley and Bert Lahr, respectively), who also need the Wizard's help. The travellers are welcomed to Munchkin Land by its inhabitants, the Munchkins, played by an assortment of dwarfs. The Wizard turns out to be a fake and Dorothy eventually returns home by clapping her hands three times and saying 'There's no place like home'.
Work on the film started in 1938. The producer was Mervyn LeRoy and the principal director Victor Fleming. The script, by many different writers, was based on a novel written for children years before by Frank Baum. The songs had music by Harold Arlen and words by E.Y. Harburg. Besides 'Somewhere Over the Rainbow', which won an Academy Award and which Judy Garland would have to sing to audiences on demand for years, the songs included 'We're Off to See the Wizard' and 'Follow the Yellow Brick Road'. 
Sadly, there was to be no place like home for Garland herself. Her life was a miserable progression through mental problems, addiction to alcohol and drugs, failed relationships, suicide attempts and desperate unhappiness until death freed her when she was 47 in 1969.