The circus act was first performed on 12 November 1859.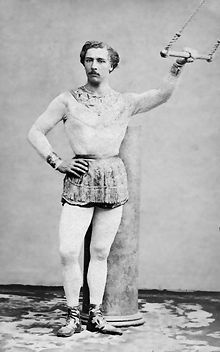 Jules Léotard, the French acrobat who performed the first flying trapeze act on record at the Cirque Napoléon in Paris in 1859, was the daring young man who 'flies through the air with the greatest of ease' in the music hall song. He also left his name to the leotard, the tight, sleeveless garment which he wore and which showed his muscular frame to advantage.
Léotard and the great French tightrope walker Blondin led the way in the development of breathtaking performances on the trapeze and the high wire in 19th-century circuses. Léotard developed his act in his teens at his father's house in Toulouse, which had a swimming pool. He fixed up a trapeze above the pool, which functioned as his safety net, and practised various tricks. In the basic act the acrobat takes off from a high board, holding the 'fly bar' of the trapeze, and lands in the hands of a catcher, who is dangling from another swinging trapeze. Both of them continue swinging until the catcher throws the acrobat back to the fly bar in the 'return'.
On the way to the catcher and back again the flyer twists and turns and carries out acrobatic maneouvres, which became more and more complicated and spectacular as the performance was developed by later circus artists. The act eventually turned into aerial ballet.
In Léotard's time there was no safety net. He performed above mattresses laid out on a raised runway beneath him. Crowds flocked to see him and in 1861 he made his London debut at the Alhambra Theatre, where people ate their dinner while he flew through the air above their heads. He is said to have earned the equivalent of about £5,000 a week in today's money. The song about him was written in the 1860s, with music by Gaston Lyle and words by the music hall singer George Leybourne, who was better known as 'Champagne Charlie'. It soon became a popular favourite.