Fire destroys the Crystal Palace
The Victorian masterpiece was burned to the ground on November 29th, 1936.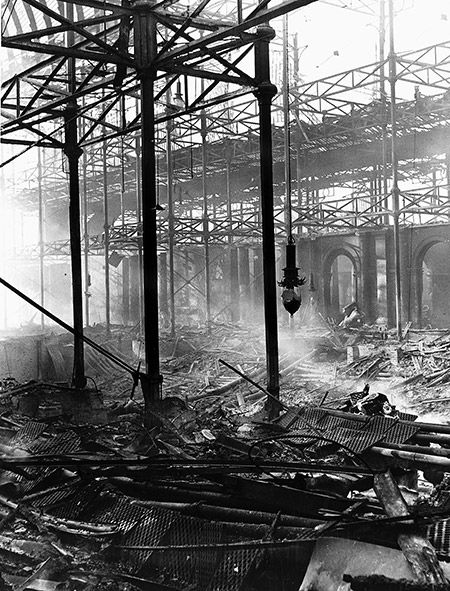 The original Crystal Palace was the centrepiece of the Great Exhibition of 1851 in London. Built in what is now Kensington Gardens, it was an astonishing prefabricated construction, created on parkland and still with many trees inside. Masterfully designed in glass, iron and wood by the architect Joseph Paxton, it wowed thousands of visitors to the exhibition from this country and all over the world and there could hardly have been a more effective demonstration of advanced British technology. 
When the exhibition closed the following year, Sir Joseph Paxton, as he now was, pointed out that the building could be taken to pieces again and moved somewhere else. At his suggestion, it was dismantled and taken to the village of Sydenham in Kent. Paxton organised the financing and ran the whole operation and the palace was recreated, even larger than before and topped by an imposing Moorish dome, in open parkland on a hilltop from which it could be seen for miles around. 
Formally opened by Queen Victoria, the work was completed in 1854 with gardens and trees, fountains, a maze, lifesize figures of dinosaurs, which attracted particular attention, and statues that would later include a bust of Paxton, who died in 1865, aged 61, by then a man-mountain so huge he could only be moved by wheelchair. All sorts of events were held there, including firework displays, cat and dog shows, cricket and football matches. A one-off Olympic Games was staged there in 1866. Crystal Palace now had its own railway station and Sydenham developed into a prosperous London suburb.
On a November evening in 1936 a local was walking his dog past the building when he saw flames inside. Hurrying in, with the dog, he found two nightwatchmen vainly trying to extinguish what had started as a small fire but was being fanned by a rising wind. He called the fire brigade, which arrived about 8pm, found it could not cope and summoned help. Hundreds more firemen reached the scene, with more than 80 fire engines from Kent and parts of London.
Every effort was made to put the flames out, but they grew stronger and were accompanied by clouds of sparks and fierce explosions. Thousands of people flocked to watch, on foot or by bicycle, car and van, with special trains put on from towns in Kent and even a few private aeroplanes flying enquiringly overhead. Mounted police did their best to control the spectators, but they seriously hindered the fire fighters, as well as causing damage to local people's properties. When morning came most of Paxton's masterpiece had been reduced to twisted metal and heaps of ash.   
No lives were lost and just how the fire had begun was never established. Rival theories attributed it to a cigarette left burning that ignited wooden flooring, or to deliberate sabotage by a disgruntled worker or some sort of extremist. John Logie Baird, the television pioneer who had a workshop in the building, traced the fire to some gas cylinders that he discovered had been delivered to his staff late and left with a watchman. Baird thought one of the cylinders might have been leaking gas, which could have been ignited by the watchman's gas ring and caused all the other cylinders to blow up like a bomb going off.
Crystal Palace Park has survived to this day and is now in the London borough of Bromley. It is home to the Crystal Palace National Sports Centre, which opened in 1964, with an athletics stadium which had been the home ground of Crystal Palace Football Club from 1906. The FA Cup Final was played there in most years between 1895 and 1914. The maze was repaired in the 1980s and flights of steps with figures of sphinxes mark the one-time Italian Terraces. The life-size figures of dinosaurs created in the 1850s were made by the sculptor Benjamin Waterhouse Hawkins on the best scientific advice then available. They are no longer considered entirely accurate, but they are a riveting sight. They fell gradually into disrepair and were sometimes damaged by vandals. An expensive refurbishment began in 2002 and is still continuing
All sorts of suggestions for developing Crystal Palace Park have been made in recent years, often arousing considerable local opposition. They have included building houses and flats on part of the park, new landscaping, a skate park and a new cafe. In 2013 a Chinese developer proposed to recreate Paxton's original building. The future is uncertain and  looks likely to remain so.