The American poet died on March 26th, 1892 after completing his masterpiece, Leaves of Grass, a year earlier.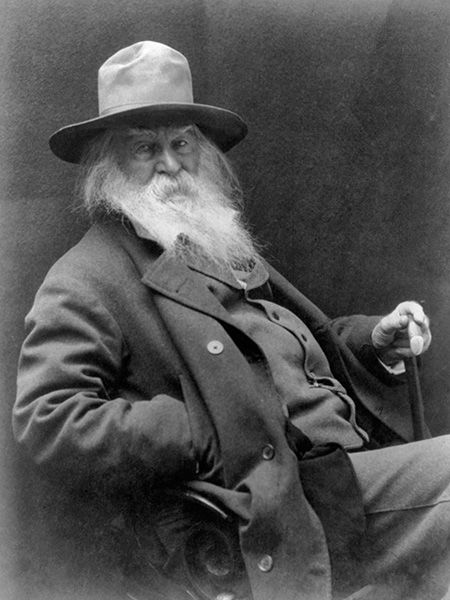 Published in The United States Review in September 1855, an appreciation of the poet Walt Whitman's collection Leaves of Grass opened by exclaiming: 'An American bard at last! … his voice bringing hope and prophecy to the generous races of young and old.' Unusually, the author of the review was Whitman himself, offering a positive assessment of his work that was lacking elsewhere. The New Criterion had called Leaves 'a mass of stupid filth'; the Sunday Press suggested Whitman, then 37, kill himself. In fact, only Whitman's death could bring an end to Leaves. Now firmly embedded in the canon of American verse, Whitman revised, added and republished the collection for the rest of his life.
Walter Whitman was born on May 31st, 1819 in Long Island, New York, the second of nine children and grew up in Brooklyn. He did not receive much in the way of education, working as a printer, schoolteacher and editor before self-publishing Leaves in 1855. He had resolved to respond to Ralph Waldo Emerson, who, in an essay titled 'The Poet', asserted that 'each new age requires a new confession', and that America needed a poet who, with 'a whole new experience to unfold' would 'tell us how it was with him'. Whitman certainly heeded the call; it was the collection's overt delight in sensual pleasures (often homosexual), the poet's own body and the material world – perhaps most obvious in the opening poem, 'Song of Myself' – that had so offended its readers. 
Following Leaves' publication, Whitman edited Brooklyn's Daily Times. After the Civil War broke out he published a poem in support of the north and volunteered as a nurse in an army hospital in Washington DC. He got a job as a clerk in the Bureau of Indian Affairs but was fired in 1865, possibly after his superiors discovered that he was the author of Leaves. Whitman suffered a stroke in 1873 and while convalescing in New Jersey was visited by Oscar Wilde. Bedridden, he moved in 1884 to his last home, a house in Camden, New Jersey, today known as Walt Whitman House. He died there in 1892, having finally completed his masterpiece in 1891 (now known as the 'Deathbed Edition'), the year before his death, writing: 'L. of G. at last complete – after 33 y'rs of hacking at it, all times & moods of my life.'