The author of Wuthering Heights died on 19 December, 1848, aged 30.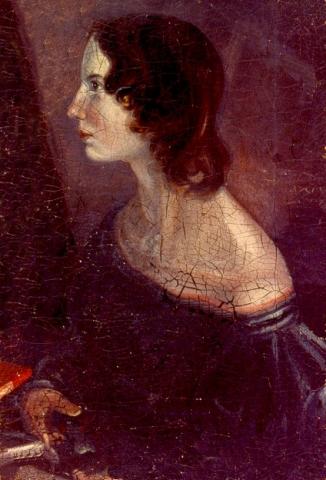 Emily Brontë, author of Wuthering Heights was born in Thornton, near Bradford in Yorkshire. At Haworth near Keighley, Emily lived, worked - and died at only 30 on December 19, 1848.
At the Parsonage here the three sisters and a brother, lonely, close , often ill, worked on writing poetry and romantic fiction. Apart from local forays as governesses the women remained in Yorkshire and worked in solitude. Though they worked separately their works are closely involved.
They were not all of Yorkshire stock, through born there. Their mother, Maria, came from Cornwall and married, at Guiseley church near Leeds, the Reverend Patrick Brunty. From Ireland, he changed his name to Brontë to honour Lord Nelson whose title it was. Mrs Brontë had six children in nine years. Her husband outlived them all, dying in 1861.
Emily's novel and poetry is all of her work that survives. 'In many ways she is more highly regarded than her sisters,' observes literary critic and author, Francis King. 'Unlike Charlotte she is often technically maladriot, yet her one novel is a work of extraordinary genius.'
Publishing was as challenging for new writers 150 years ago as it is today. Fearing to reveal they were female they wrote under pseudonyms - Currer, Acton and Eliss Bell. . First was Jane Eyre, which met with favour and success for Charlotte, then Wuthering Heights was published as a three volume work with Anne's Agnes Grey.
It is unusual for a writer's success to be founded upon one novel, still more for it to remain popular. It has been read by millions, filmed, televised, even turned into an ambitious musical: Delius considered setting it to music. Yet after Wuthering Heights, Emily only sketched out new ideas. With her sisters she contributed to a book of poems, which sold but two copies.
Charlotte travelled, going to London and to work in Belgium twice (once with Emily) where she fell disastrously in love, and wrote Villette. Charlotte's attempts to help her younger sister was not aided when she discovered, and revealed, Emily's poems and the secret fantasy she and Anne wrote together, Gondal of which fragments in a minuscule hand remain. Emily hated interference, however well meant. 'Liberty was the breath of Emily's nostrils' said Charlotte of her intensely private sister, who loved to wander the moors yet was also practical - she was renowned as the best breadmaker in Haworth.