The Death of Cosimo de' Medici
One of the key figures of the Italian Renaissance died on August 1st, 1464.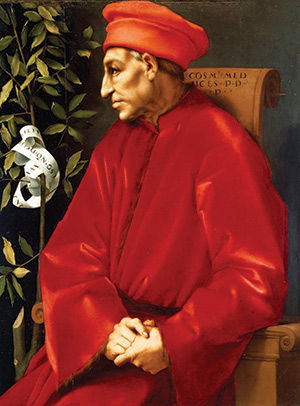 By the end of the 14th century the city-state of Florence had built up a profitable textile industry with a flourishing export trade and had become a major banking centre, lending money to businessmen, kings and lords, popes and senior clergy. The city and its surrounding territory was an independent republic governed by its wealthiest families through the Signoria, the city council, behind a façade of democracy. The Medicis, originally Tuscan peasantry, worked their way up into the rich elite and Cosimo the Elder, as he was known, would make himself the effective ruler of Florence and one of the key figures of the Italian Renaissance.
Cosimo was the elder son and successor of Giovanni di Bicci de' Medici, who founded the Medici Bank in the 1390s, opened branches in Rome, Venice and Naples and went on to take charge of the Vatican's finances. He died in 1429, when Cosimo was 39. Cosimo was a brilliant businessman who made a colossal fortune in banking and also adroitly built up Medici political power in Florence. In 1433 some of his rivals had him arrested and charged with trying to elevate himself above the status of an ordinary citizen, which in supposedly democratic Florence could carry the death penalty. Imprisoned in a tiny dungeon, Cosimo contrived to make sure that his food was not poisoned and quietly bribed enough members of the Signoria to reduce the sentence to banishment for five years. 
Cosimo went to Padua and soon moved on to Venice, where he and his money were warmly received. He had taken his bank with him and the effect on the economy of Florence was so severe that the banishment was cancelled and Cosimo returned to Florence in 1434. He then had his opponents banished in their turn and made sure that they never returned. 
Cosimo's huge wealth and his combination of open-handed generosity and shrewd bribery took him to the top of Florentine society. He took care never to behave like a despot and his simple, straightforward manner helped to endear him to many citizens. So did his generous gifts to churches, the religious orders and other good causes. He gained the support of the majority of the Signoria, who considered him the most influential figure in helping them to retain their privileged position in the city. Pope Pius II, who knew him well, said that political matters were settled at Cosimo's house; he chose who should fill public positions; he decided peace and war; and he was virtually king of Florence.
Another factor was Cosimo's exaltation of Florentine prestige through his encouragement of scholars and artists. From his boyhood he had been interested in 'the new humanism', the study of the literature, learning and philosophy of Ancient Greece and Rome. He lavished money on the Neoplatonist philosopher Marsilio Ficino and financed his translation of the entire works of Plato. They became close friends and enjoyed discussing philosophy together. He also backed the scholar Poggio Bracciolino, who travelled about rediscovering long-lost classical manuscripts, and Cosimo built up his own library of books and Greek, Latin and Hebrew documents, which he had translated. 
Cosimo also commissioned work from the city's architects and artists. The Medici Palace, where he lived with his wife Contessina and his slave-mistress Maddalena (he bought her in Venice), was designed by Michelozzo de Bartolozzi and built in Florence from the 1440s. Cosimo had already paid Michelozzo to rebuild the monastery of San Marco, where he had his own private cell and held deep theological discussions with the prior, the future St Antonio Pierozzi. He paid Filippo Brunelleschi to rebuild the Medici family's parish church of San Lorenzo. Others he backed included Michelangelo, the sculptors Donatello and Ghiberti and the painter Fra Filippo Lippi. He is on record as saying that his two supreme pleasures in life were making and spending money and that spending it was even more satisfying than making it.  
In his later years Cosimo suffered badly from gout, arthritis and bladder problems. Ficino recorded that when Cosimo's wife reproached him for spending so much time sitting in a chair with his eyes closed, doing nothing, he replied that when they moved to their country estates she took plenty of time over her preparations and he equally needed time to prepare for his journey to a country from which he would not return. He was 74 when he died at his country house at Careggi. His body was taken to Florence and huge crowds filled the streets as he was buried in the church of San Lorenzo, where his tomb can still be seen. Carved on it by order of the Signoria were the words Pater Patriae, 'Father of the Country'.