The author was born on 28 July 1866.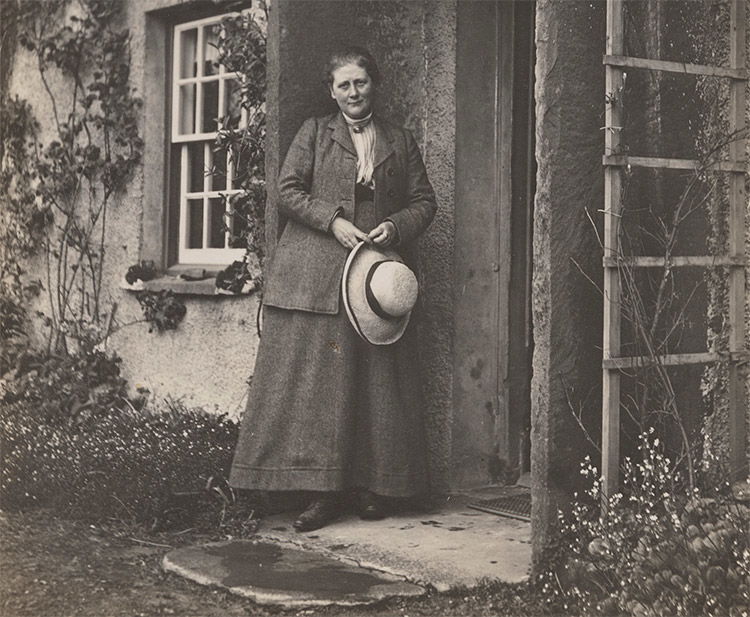 The announcement in 2016 that the new 50p coin would feature Peter Rabbit was a tribute to the author of some of the best-loved stories for children that have ever been written. Her own lonely childhood may have helped to inspire them. Her parents, Rupert and Helen Potter, both inherited plenty of money. They moved in artistic circles and she was their first child, born in a smart new London house in South Kensington. Rupert Potter was a successful lawyer, an admired amateur photographer and a close friend of the painter John Everett Millais. Looked after by nannies, Beatrix seems to have known few other children until her brother Bertram was born when she was five. 
The two children saw far more of the servants than they did of their parents, though they did encourage them from an early age to try their hands at drawing and painting. Their numerous pets at home included rabbits, mice and bats, as well as a hedgehog, and they collected butterflies and other insects. Both children became keenly interested in studying animals and birds. Bertram was sent away to boarding school, but Beatrix was kept at home to be educated by a succession of governesses. It seems significant that when, aged 14 or so, she started to keep a diary she wrote it in code, so that nobody else in the family would be able to understand it.
As a small child Beatrix's nanny was a Scot who believed in fairies and witches and Beatrix loved the idea of fairies. The nanny read Uncle Tom's Cabin to Beatrix and she gradually taught herself to read on Rob Roy, Ivanhoe and other novels by Sir Walter Scott. She seldom left the house, but the nanny did take her for walks in Kensington Gardens. In summertime the Potters would take a family holiday in Scotland or in the Lake District and the children would take some of their pets along.
By the age of 16 Beatrix had developed a keen interest in fungi. In her early twenties she began to produce detailed paintings of them and in 1897, aged 26 and still living at home with her parents, a paper by her on the germination of the spores of a variety of mushroom was read to the Linnean Society, though not by her. As a woman she was not allowed into the building, which infuriated her. 
By this time she was sending illustrated letters telling stories to the small children of her last governess, Annie Moore. One of the stories, sent that same year, was about four little rabbits called Flopsy, Mopsy, Cottontail and Peter. It would be the basis of Beatrix's first book, with the illustrations in black and white, which after several publishers had turned it down she published at her own expense in 1901. It was taken up by Frederick Warne & Co, who with difficulty persuaded her to redo the illustrations in colour and brought it out the following year as The Tale of Peter Rabbit. The book's delightful simplicity and charm made it instantly a huge success.
From 1902 to 1913 Beatrix wrote and illustrated the tales of a host of engaging characters, who included Squirrel Nutkin, Benjamin Bunny, Mrs Tiggy-Winkle, Mr Jeremy Fisher, Jemima Puddle-Duck, the Flopsy Bunnies and Pigling Bland. The books earned her plentiful money in royalties and she grew out of her parents' control. She disregarded their fierce opposition to her engagement in 1905, when she was 38, to Norman Warne, her publisher's younger brother, because he was 'in trade', but he died only a few weeks later. She soon acquired a farm called Hill Top in the Lake District, which she bought with her own money, and at the age of 47 in 1913 she married her local solicitor, William Heelis. They lived close by at Castle Cottage in Near Sawrey, while she concentrated on breeding prize-winning Herdwick sheep and building up her Lake District property interests. She was a devoted supporter of the fledgling National Trust and used her money and her local contacts to acquire estates for the Trust to prevent them being bought by property developers and so stop the countryside being spoiled. Now a formidably tough character, she was a key figure in the conservation of the Lake District.
When Beatrix Potter died in 1943, aged 77, of a heart attack following bronchitis, she was cremated and her ashes were scattered on her land by her Hill Top Farm manager. She bequeathed Hill Top Farm and Castle Cottage to the National Trust, which has preserved the property as it was in her time. Her stories sell millions of copies a year to this day.