The Mauretania was launched on 20 September 1906.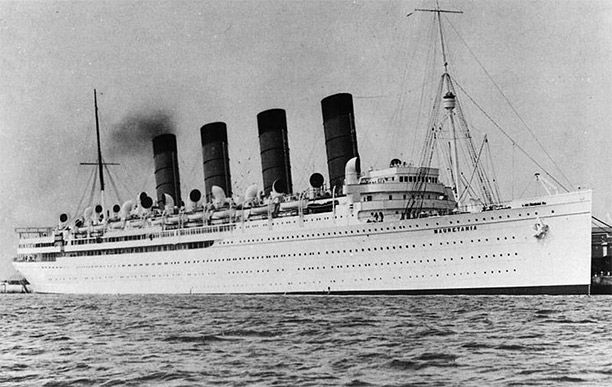 The ocean liners of the years before and after the First World War, forcing their imperious way through the heaving water with their dark hulls, gleaming white superstructures and towering raked funnels, were compelling images of human achievement and astonishing luxury. The Mauretania and her sister ship, the Lusitania, were probably the most famous of them all. Between them they held the Blue Riband, the Atlantic speed record, for more than twenty years.
Mauretania was built for the Cunard Company by Swan Hunter & Wigham Richardson on the Tyne at Wallsend. She left the Tyne in October, towed out to the open sea to the shrieking of ships' sirens and the applause of thousands of spectators, and steamed her way to Liverpool, her home port. Designed to carry 560 passengers in first class, 475 in second and 1,300 in third, plus a crew of 812, she weighed above 30,000 tons and achieved a speed in trials of above 26 knots.
Shipbuilder magazine hailed the liner's speed, comfort, elegance and efficiency. The first-class accommodation, on five decks amidships, was a marvel of Edwardian opulence, with the principal rooms in luxurious French and Italian Renaissance styles. The grand staircase was fifteenth-century Italian and the two dining saloons were in the style of Francis I. The lounge was 80 feet long in the Louis XVI manner, with graceful columns supporting a dome in cream and gold. The grand smoking room was in Italian Renaissance again, with a marble chimneypiece, surmounted by a carved wooden hood copied from a Della Robbia original. There was a special children's room decorated with paintings of scenes from 'Sing a Song of Sixpence' and equipped with a rocking horse of mammoth proportions. The cabins were similarly stylish and comfortable, and the second-class and third-class rooms were a considerable improvement on all previous standards.
The passengers were whisked across the Atlantic in this floating palace at blistering speed. In 1839 the fastest Atlantic crossing had taken thirty days to New York and twenty days back. Mauretania could do it in five days each way. Lusitania was torpedoed and sunk by a German submarine off the Irish coast with heavy loss of life in 1915. Mauretania was used as a hospital ship. After the war she returned to her civilian trade, but she lost the speed record to the new German liner Bremen in 1929 and was finally scrapped at Rosyth in 1935.