Richard Cavendish charts the events leading up to King Zog I's coronation on September 1st, 1928.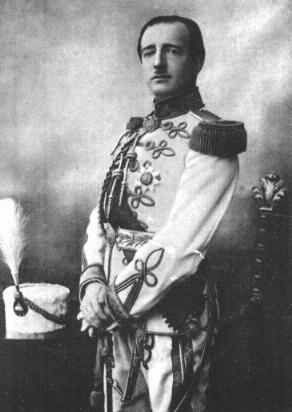 Zog I was probably the strangest monarch of the 20th century. The Times called him 'the bizarre King Zog' and his biographer, Jason Tomes, quotes descriptions of him ranging from 'a despotic brigand' to 'the last ruler of romance'. He created his throne for himself and as Europe's only Muslim king ruled Europe's most obscure country. He had started life as Ahmed Bey Zogolli or Ahmed Zogu in 1895, the son of an Albanian chief, when the country was still part of the Ottoman empire. Order broke down during the First World War as other Balkan countries tried to seize areas of Albania. From 1920 there was a succession of short-lived governments, in which Zogu held various posts until he was driven into exile in 1924. He returned at the end of the year, crossing the northern border into Albania with Yugoslav backing and an army of mercenaries recruited with money supplied by international oil companies and rich Albanian familes. Another mercenary army, led by Zogu's lieutenants, invaded from the south.
Zogu swiftly established himself as Albania's dictator with the title of president. He had his principal opponents murdered and ruled by force – there was no other effective way of ruling Albania – but Zogu realized that he could only survive with support from abroad and decided to rely on the Italians. A military alliance was signed in 1927 and Italy soon dominated Albania.
In 1928, with Italian approval, Zogu, who genuinely wanted to modernise his Ruritanian country, decided to make his dictatorship permanent. A new Constituent Assembly, elected under strict government control, proclaimed Albania a monarchy under Zog I, King of the Albanians. The king made his way to the ceremony in Tirana in an open car with an escort of cavalry past lines of soldiers, but the streets were kept clear of spectators for fear of assassination. However, every house displayed the Albanian flag, with a black eagle rampant on a scarlet ground. The flags had been mass-imported from Italy on the cheap. In the Parliament House the monarch stood on a dais to deafening applause and swore an oath on both the Koran and the Bible to maintain the country's national unity, territorial integrity and independence. Loud cries of 'Long live the king!' accompanied him to his royal palace and six days of public holiday followed, with bonfires, firing of rockets and much slaughtering of sheep.
Handsome, courteous, reserved and ruthless, Zog was a chain-smoker who enjoyed western classical music and films starring Charlie Chaplin and Shirley Temple. Mussolini ousted him in 1939 and declared Albania an Italian protectorate. Zog went into exile, for part of the time comfortably installed in London's Ritz Hotel, and died in France in 1961 at the age of 65.