Jesse Owens born in Alabama
The great Olympian was born on September 12th, 1913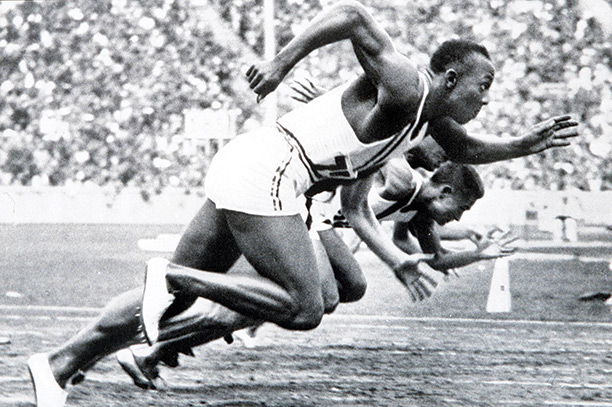 The star American athlete of his day came from a poor black family at a little place called Oakville in northern Alabama. His biographer William J. Baker described Oakville's 'poverty, geographical isolation and quiet desperation' when James Cleveland Owens was born, his parents' tenth and last child. His mother, he said, was 'the queen bee' of the family. At her urging they moved out of the Deep South to Cleveland, Ohio and the boy's name changed for life after a schoolteacher there misheard his initials, J.C., as Jesse.
Young Jesse's grades were always low, but PE teachers in high school spotted his athletics potential and trained him to startling effect. His prowess took him to Ohio State University in 1933 as one of its few black students and Owens started breaking world records in sprints, hurdles and the long jump. In 1936 he was picked for the US team in the Olympic Games in Berlin.
It was there that Owens rose beyond national to international fame. He won the 100 metre sprint, the 200 metre sprint in world record time, the long jump, in which he set another world record, and was part of the winning American team in the 4 x 100 metre relay. His haul of four gold medals was the largest of any competitor and his modesty and charm won hearts as well as heats.
The story that Adolf Hitler refused to present Owens with his medals and shake his hand because he was black started in the New York Times, was taken up by other papers and lasted for years, but is completely untrue. Hitler had wanted to present medals only to German athletes, which the Olympic Committee would not allow, so he did no presenting at all. Owens denied that Hitler had snubbed him, describing how he passed the Führer's box one day and Hitler waved to him and he waved back. Hitler later sent him a signed photograph. Owens said he was far worse snubbed by whites in the United States than ever in Germany, including by President Roosevelt, who did not even send him a congratulatory telegram.
Back in the States Owens earned money from activities including endorsing products for major corporations, which cost him his amateur standing, but kept him in the public eye. He was an impressive speaker commending athleticism and American patriotism to the young and his sheer likeability as well as his achievements helped in changing white attitudes. In 1976 President Ford awarded him the Medal of Freedom as 'a source of inspiration' to all Americans. When he died at 76 four years later in Tucson, Arizona the flags flew at half-mast across the whole state.