Jefferson and the French Revolution
When American Minister in Paris, writes Stuart Andrews, Jefferson was a sympathetic witness of the events of 1789.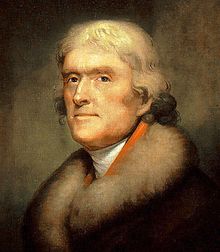 One of the happiest yet least noticed of historical coincidences was the presence in Paris in 1789 of Thomas Jefferson. The draughtsman of the Declaration of American Independence was thus an observer of the first phase of the French Revolution, and in his brief autobiography Jefferson devoted two dozen out of barely a hundred pages to describing events in France during 1788 and 1789.
And from March 1787, when he confided to Lafayette's cousin, Madame de Tesse, his thoughts on the Assembly of Notables, Jefferson's letters provide an equally revealing commentary on the French political scene.
Since his autobiography was not committed to paper until 1821, when Jefferson was already seventy-seven, it is hardly an eye-witness account; yet, at all points where it can be checked, it coincides very closely with the reports given by Jefferson in his letters at the time, and can therefore be taken more seriously than most political memoirs. As he himself explained: