On the Spot: Sushma Jansari
'People think curators sit about in armchairs drinking tea while occasionally peering at an object. It's a little more high octane than that.'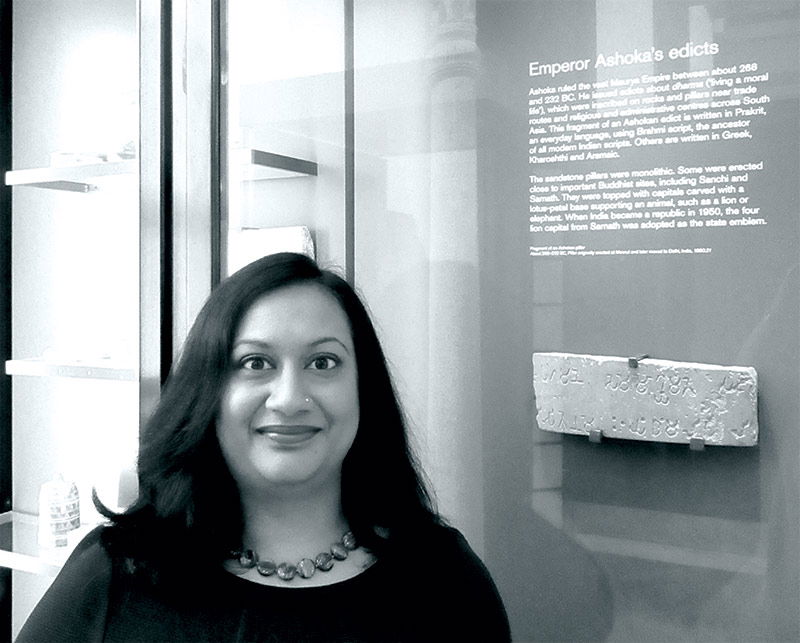 Why are you a historian and curator of South Asia?
I am fascinated by the convergence of history and the objects which survive from antiquity, providing a direct link with the past. As a curator, I tell stories through objects and bring history to as wide an audience as possible.
What's the most important lesson history has taught you?
The importance of footnotes.
Which book has had the greatest influence on you?
From Samarkhand to Sardis by A. Kuhrt and S. Sherwin-White. It is what led me to study Seleucid-Mauryan contact and interaction.
What book in your field should everyone read?
The Classics and Colonial India by Phiroze Vasunia.
Which moment would you most like to go back to?
I'd love to know what actually happened when Seleucus and Chandragupta met by the banks of the River Indus in c.305 BC.
Which historian has had the greatest influence on you?
My PhD supervisor, Eleanor Robson.
Which person in history would you most like to have met?
Megasthenes, the first Greek ambassador to travel across northern India to Pataliputra, Chandragupta's capital.
What foreign languages do you speak?
I speak Gujarati, although I can read/write other languages as well.
What is most misunderstood about your field?
That curators sit about in armchairs drinking tea while occasionally peering at an object. Curatorial work is a little more high octane – and interesting – than that.
What's the most exciting field in history today?
History of collections and individual objects.
What historical topic have you changed your mind on?
Gandhara: it's about so much more than Greco-Roman influence.
Which genre of history do you like least?
Dry, narrative history.
Is there a major historical text you have not read?
Yes; my Kindle and bookcase are heaving with them.
What's your favourite archive?
The India Office Records at the British Library.
What's the best museum?
Do you really need to ask? The British Museum, of course.
Tudors or Stuarts?
Tudors.
Normans or Anglo-Saxons?
Anglo-Saxons.
Rome or Athens?
I think I'd go for Pataliputra, the capital of the Mauryan Empire.
Cromwell or Charles I?
Cromwell.
Braudel or Gibbon?
Gibbon.
Sushma Jansari is Curator of the Asian Ethnographic and South Asia Collections at the British Museum. She recently curated 'Ancient to Medieval South Asia' in the Sir Joseph E. Hotung Gallery for China and South Asia at the British Museum.