In 44 BC, the greatest of dictators was slain. The question of how Julius Caesar meant to use his supreme power has ever since been disputed.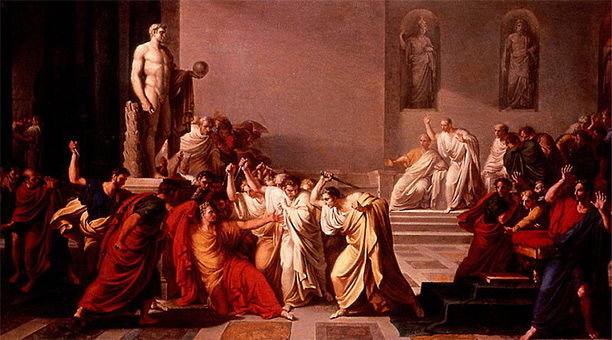 The assassination of Julius Caesar on March 15th, 44 BC forms a dramatic and unexpected climax in the series of events that brought the Roman Republic to an end. It provided the spark for the Civil Wars which lasted for thirteen years, until the defeat of Mark Antony by Augustus, who was to establish the Empire which endured for some five centuries.
The Roman system of government, in effect by the small senatorial class, had been adequate while the state was simply a city, and even during the years of expansion from Rome over Italy and the more adjacent lands. But it proved incapable of dealing with a number of problems that became acute in the course of the last century BC. At home the movements associated with the name of the Gracchi aimed at diminishing the political and economic privileges of the senatorial class, while overseas the command of great armies conferred a dangerous power upon individual generals. No longer was the annual office of consul sought for its own sake, since the wielding of power in Rome was now of little importance. The consulate was sought because of the offices to which it could lead - the great proconsular commands in the provinces; for it was in the provinces, where active campaigns were being waged, that reputations could be won and authority acquired which could make itself felt in the capital.