The Hobbit's publication day
Bilbo Baggins first strode onto the world stage on September 21st, 1937.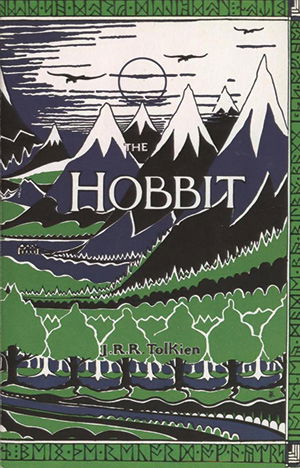 One day in the early 1930s the Professor of Anglo-Saxon at Oxford University was wearily marking some examination papers to earn a bit of extra money when a strange sentence popped into his mind: 'In a hole in the ground there lived a hobbit.' What a hobbit was, he said afterwards, he had no idea at all, but he gradually built up a story.
John Ronald Reuel Tolkien was an authority on Old English and Middle English. He was fascinated by the myths and legends they enshrined, which inspired him to create a whole mythological world of his own. Beowulf, he said later, was a major influence. Tolkien gave his imagined world a long history, made maps of it and invented entire languages for its various inhabitants. He was a brilliant story-teller and the hobbit tale, meant for children, was the first to bring his imaginary world to life for a multitude of readers.
Tolkien named his hobbit Bilbo Baggins. Hobbits are small, friendly creatures, like human beings, but only about half the height, with hairy feet. They live in nice commodious residences underground and are very fond of home comforts, but Bilbo is drawn out of his routine existence into a dangerous quest for a treasure guarded by a dragon called Smaug in its lair in the Lonely Mountain. A wise wizard called Gandalf is the leader and Bilbo's companions are a group of 13 dwarves. Creatures encountered on the journey include elves, trolls, evil goblins, giant eagles and spiders – both of which can talk – and a strange, slimy, sinister being called Gollum. After many hair-raising episodes the quest is successful and the dragon is killed.
During the adventure the apparently conventional hobbit displays qualities of courage and resourcefulness that earn him his companions' admiration. Tolkien based this key element of the tale on his experiences in the army in the First World War, when he saw 'ordinary' people displaying indomitable courage against atrocious odds.
When The Hobbit, or There and Back Again was published by George Allen & Unwin in London, with a dust jacket based on the author's own design, it received glowing reviews. The Times admired 'a happy fusion of the scholar's with the poet's grasp of mythology' and the book appealed to adults as well as children. It sold very well and has remained in print ever since. The publishers naturally wanted more and The Hobbit proved to be the forerunner of The Lord of the Rings, Tolkien's epic story of a titanic struggle between good and evil, published in three volumes in 1954-55, which has sold more than 150 million copies and is an acknowledged classic.