Richard Burton dies in Trieste
The explorer died on October 20th 1890.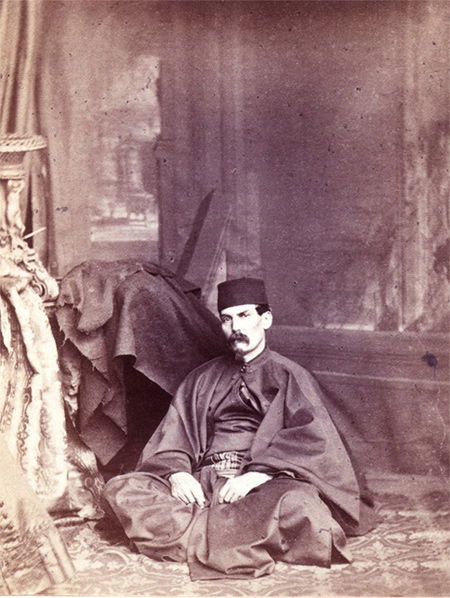 An ardent explorer, both physically and mentally, Richard Burton produced more than 70 books, including unexpurgated translations of oriental sex classics. Fluent in Arabic, in 1853 he visited Medina and Mecca disguised as a pilgrim. During the 1850s he and John Speke went to Africa to discover the source of the Nile. In 1860 he went to Salt Lake City and wrote about the Mormons. Aged 39, in 1861, he married Isabel Arundell, a devout Roman Catholic who was ten years younger. He joined the Foreign Office and was sent as consul successively to Fernando Po, Brazil, Damascus and finally Trieste.
Burton was 51 when he and Isabel arrived in Trieste in 1872. They told people they lived like a pair of brothers, not apparently minding the implication of no sex. He suffered from persistent insomnia and she would rise very early every morning to make him tea. After breakfast at 5am he would work on his writings till lunch. He and Isabel did much travelling and she wrote successful travel books.
Burton relied increasingly on Isabel as his health worsened. He would have his first heart attack in 1884. Meanwhile, his translations of erotica put him in danger of prosecution for pornography. He and his friend Forster Fitzgerald Arbuthnot tried to publish their translation of a Sanskrit love manual called the Ananga Ranga by pretending  it was for their use only, but it so alarmed the printers that they stopped the presses. By 1876 Arbuthnot had gone on to translate the Sanskrit Kama Sutra, which Burton edited and improved. They printed it in London in 1883 under the name of a non-existent foreign publishing firm and were encouraged to publish the Ananga Ranga in 1885. Burton went on to bring out an Arabic erotic classic, The Perfumed Garden, and began publishing his greatest work, his translation of The Arabian Nights. In 1886 he was knighted for his Foreign Office service.   
In books and articles Burton condemned what he considered the hypocritical attitude of society to sexual matters, but Isabel loathed his work on sex and after heart disease carried him off at 69 she destroyed almost all his diaries and papers. She published a lying two-volume biography of him in 1893 in which she pretended he had been a modest man and a secret Roman Catholic. Meantime she had him buried in the graveyard of St Mary Magdalen in Mortlake, London in a tomb shaped like a Bedouin tent, where she joined him when her time came in 1896.