The Ministry of Food was founded to help people survive rationing and to bolster morale, which became particularly important at Christmas.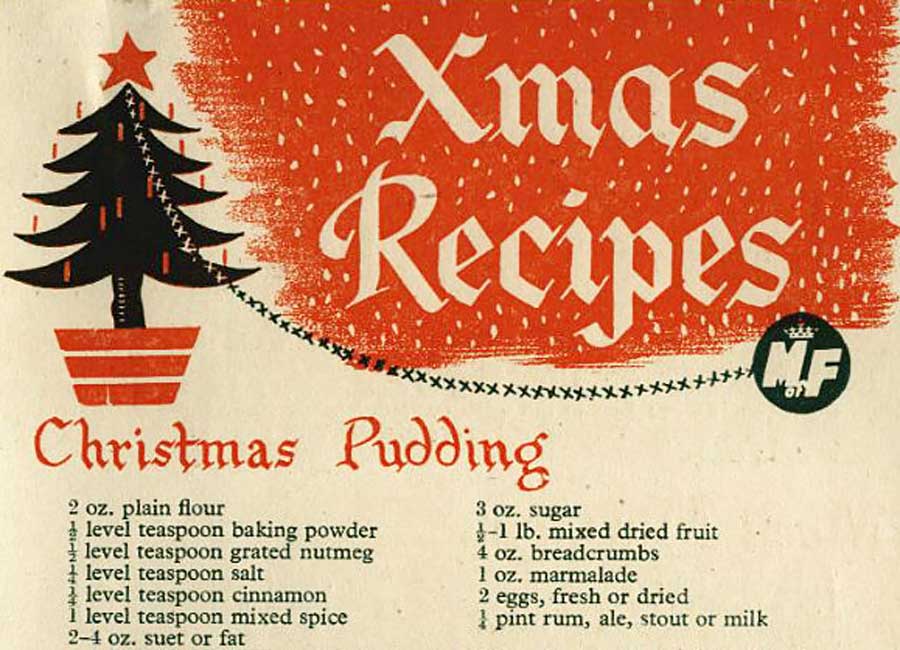 Before the Second World War, 70 per cent of Britain's food was imported, including 50 per cent of meat, 91 per cent of butter and 70 per cent of cheese and sugar. Wartime naval blockades meant supplies quickly grew scarce. Food became rationed in January 1940 and remained so until 1954. During this time, the British government was forced to look for new food sources, as well as trying to educate people on how to be more economical with what they had. To help the nation through this period of crisis, the government established the Ministry of Food.
The Ministry played a vital role in educating people about nutrition, as well as bolstering national morale during a time of hardship. For 14 years, the Ministry was tasked with helping people adapt to a single national diet. At its peak, it employed 50,000 people to make and distribute leaflets, recipe cards, radio and cinema broadcasts, as well as adverts that were published everywhere from local papers to Vogue magazine.
Maintaining national morale throughout the war became one of the Ministry's central aims. The most famous Head of the Ministry, Lord Woolton, later wrote in his memoirs: 'The public was either going to laugh or cry about food rationing ... it was better for them that they should laugh – even if it was only a somewhat wry smile – than that they should contemplate too much on the misery of the position.'
One of the most important meals of the year was Christmas dinner. Helping people to cook tasty Christmas meals offered an important way to raise their spirits. The Ministry issued short recipe books to help prepare festive meals when turkey and other traditional ingredients were in short supply. 'Christmas is the feast that needs a party', reads the recipe book. People were encouraged to meet with friends even if they could not have their whole family together. The Ministry noted the wartime benefits of gathering in groups, saying that less fuel was needed to heat homes if people assembled in one place, and cooking for a group of six was also more fuel efficient than cooking for two groups of three.
They also suggested pooling meat rations for two or three small families who used the same butcher, in order to 'produce a joint worthy of the Christmas table'. To cut down on fuel usage, the Ministry suggested cold dishes including cold sausage and apple rissoles, cold savoury mould and cold winter and potato salads for Christmas supper.
Fresh eggs were in especially short supply, so the Ministry provided recipes for egg-free Christmas pudding, fruit cakes and rock cakes, and even eggless batter for toad-in-the-hole or Yorkshire puddings. One version of the Ministry's festive recipe book, prepared for Christmas 1941, noted that since the cheese allowance had been raised this was one way to eke out rations. Grating the cheese would help it to go further and they recommended adding it to soups, salads and biscuits.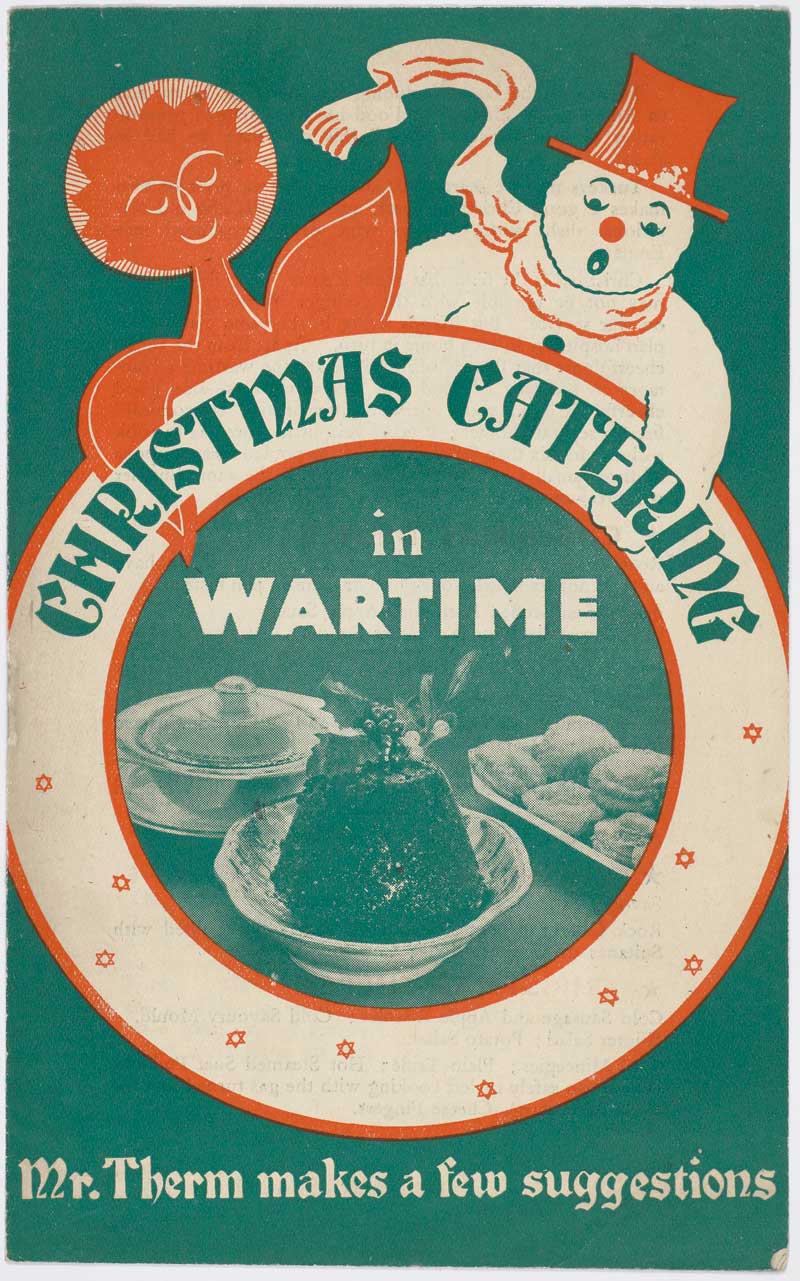 These adaptations continued throughout the war, not just at Christmas. Food shortages forced families to use new ingredients and recipes to try to recreate their favourite meals. Of course, this included other special occasions, such as birthdays. A Ministry of Food advertisement in Vogue suggested refreshments for children's parties that would not 'put too great a strain on the rations'. These included mock cream (a mixture of milk, orange squash, water and sugar) and ways to ice biscuits without using icing sugar. Another Ministry publication contained a recipe for pancakes for Shrove Tuesday, adapted to factor in the egg shortages.
The Ministry also issued a monthly 'cookery calendar' to help people make the most of local and seasonal produce. These ran well beyond the end of the war, as many types of food continued to be rationed until 1954. For instance, the November-December 1949 issue still suggested gelatine as a substitute for egg whites in icing and 'mock cream' for fruit jelly. Margarine and cooking fat were used as substitutes for butter, while October-November 1949 featured recipes for Christmas pudding, Christmas cake and mincemeat, to allow people to prepare their festive desserts well in advance.
Meanwhile, meat shortages forced people to cook with new types of meat and fish. One Ministry leaflet, 'Making the Most of Meat', included a recipe for 'Sheep's Head Roll'. Cooks were instructed to 'Clean the sheep's head in salted water, then rinse well' and then to 'tie up the head to keep in the brains'. One notable failure was the Ministry's recommendation that people make 'Woolton pies', after the then-Minister of Food. Since meat was in such short supply, the recipe suggested taking whatever vegetables were in season and turning them into a pie filling. It was described in The Times in 1941 as 'economical and wholesome fare'. However, as soon as the meat supplies improved, people swiftly returned to making meat pies.
Along with printed leaflets and adverts, the Ministry also created short films called 'Food Flashes'. Between March 1942 and November 1946, more than 200 were shown in British cinemas. With each film reaching an estimated audience of 20 million, the Food Flash series was a way for the government to help people better understand rationing as well as provide tips on everything from keeping milk fresh to cooking with dried eggs.
The Ministry of Food played a vital role in public education during the Second World War, and was one of the great unexpected successes of the British Home Front. Though not all of the Ministry's projects were successful, it ultimately had a major impact on changing the nation's diet, theoretically improving people's nutrition while increasing reliance on home-grown produce.
Sarah Thomson is the Government and Civic Literacy Curator at the National Library of Scotland.