The funeral of General William Booth
God's general was buried on August 29th, 1912.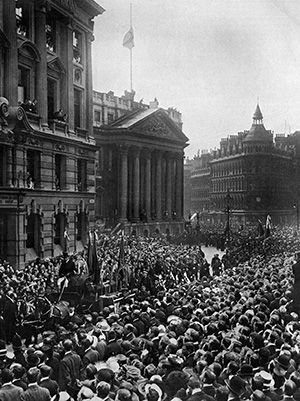 The founder of the Salvation Army was 83 when he died on August 20th, 1912. 'The General,' the Army announced, 'has laid down his sword.' His body lay in state for three days at the Congress Hall in Clapton while thousands of people filed past. Some 35,000 attended the memorial service for him at Olympia. On the 29th 5,000 Salvationists in uniform marched through the City from the Army's headquarters in Queen Victoria Street with 40 Army bands playing the 'Dead March' from Handel's Saul, past huge crowds to the Abney Park Cemetery in Stoke Newington, where the General was buried beside his wife Catherine, the Army's co-founder. East End rumour had Queen Alexandra attending incognito, which had not happened, but people wished it had. 
Born in 1829, William Booth grew up in straitened circumstances in Nottingham, left school at 13 and moved to London in 1849. A pawnbroker's assistant and a zealous Methodist lay preacher, he  met the middle-class Mumford family and their daughter Catherine, an invalid who helped to educate him while drawn by the sheer force of the man. They married in 1855.
Booth and his wife started their Christian Mission in the East End in 1865. In 1878 Booth hit on the term 'salvation army'. He and Catherine created an effective force for converting the working classes, complete with military uniforms, ranks and discipline. Their Christianity was basic. The Eucharist and the complications of theology were abandoned. Either you were converted or you would go to hell for eternity, and that was that. 
Along with the mission went practical charity work to deal with poverty and homelessness. As Booth said: 'The people must be fed, that their life's work must be done or left undone forever.' The Army organised shelters to get the homeless, the sick and prostitutes off the streets and ran its own emigration bureau. When Catherine died of cancer in 1890 the Army had almost 100,000 soldiers in Britain. Today it has 1.5 million in 125 countries.