Hermaphroditus and Salmacis
Man and woman become one in a visionary and resonant myth. 
The Holy Roman Emperor, Rudolf II, moved the Habsburg court from Vienna to Prague in 1583. Thanks to his patronage, the Bohemian capital attracted many of the greatest talents of their time: the astronomers Tycho Brahe and Johannes Kepler; the botanist Charles de l'Ecluse; the poet Elizabeth Jane Weston; and a host of artists. Prague Castle became a centre of intellectual, scientific and aesthetic inquiry, where a lion and a tiger roamed, botanical gardens blossomed and a 'cabinet of curiosities' was assembled, devoted to the 'three kingdoms of nature and the works of man'. 
The emperor also had a penchant for erotic art, which scandalised the Catholic Church, to whom the Habsburgs were traditionally, though in this case nominally, loyal. It is no surprise, therefore, that he commissioned one of the masters of 'Rudolfian Mannerism' – Bartholomeus Spranger – to tackle one of the great erotic tales of the Classical world, told by Ovid in Book IV of his Metamorphoses.
A son born to the gods Hermes and Aphrodite was raised by the naiads, who presided over bodies of fresh water. A striking mix of his mother's and father's features, his name was a similar blend: Hermaphroditus. At the age of 15, he set out on his travels, seeking out remote rivers. On one of his excursions he became entranced by a body of water so crystal clear that he could see right to the bottom and whose banks were always emerald green. Only a nymph lived there, Salmacis. Unlike her sisters, she knew nothing of the arts of hunting, nor did she run, or master the arts of javelin or bow. Instead, she would spend her days bathing in her pool, combing out her hair with a boxwood comb. Then she would drape herself in transparent robes and lie on the grass.
One day, while gathering flowers, she caught sight of Hermaphroditus. From that moment, she longed to possess him. She composed herself, paid attention to her attire and addressed him, asking if he was Cupid, or, if mortal, whether he was engaged to be married. 'If there is such a girl', Salmacis demanded, 'let me enjoy your love in secret: but if there is not, then I pray that I may be your bride, and that we may enter upon marriage together.'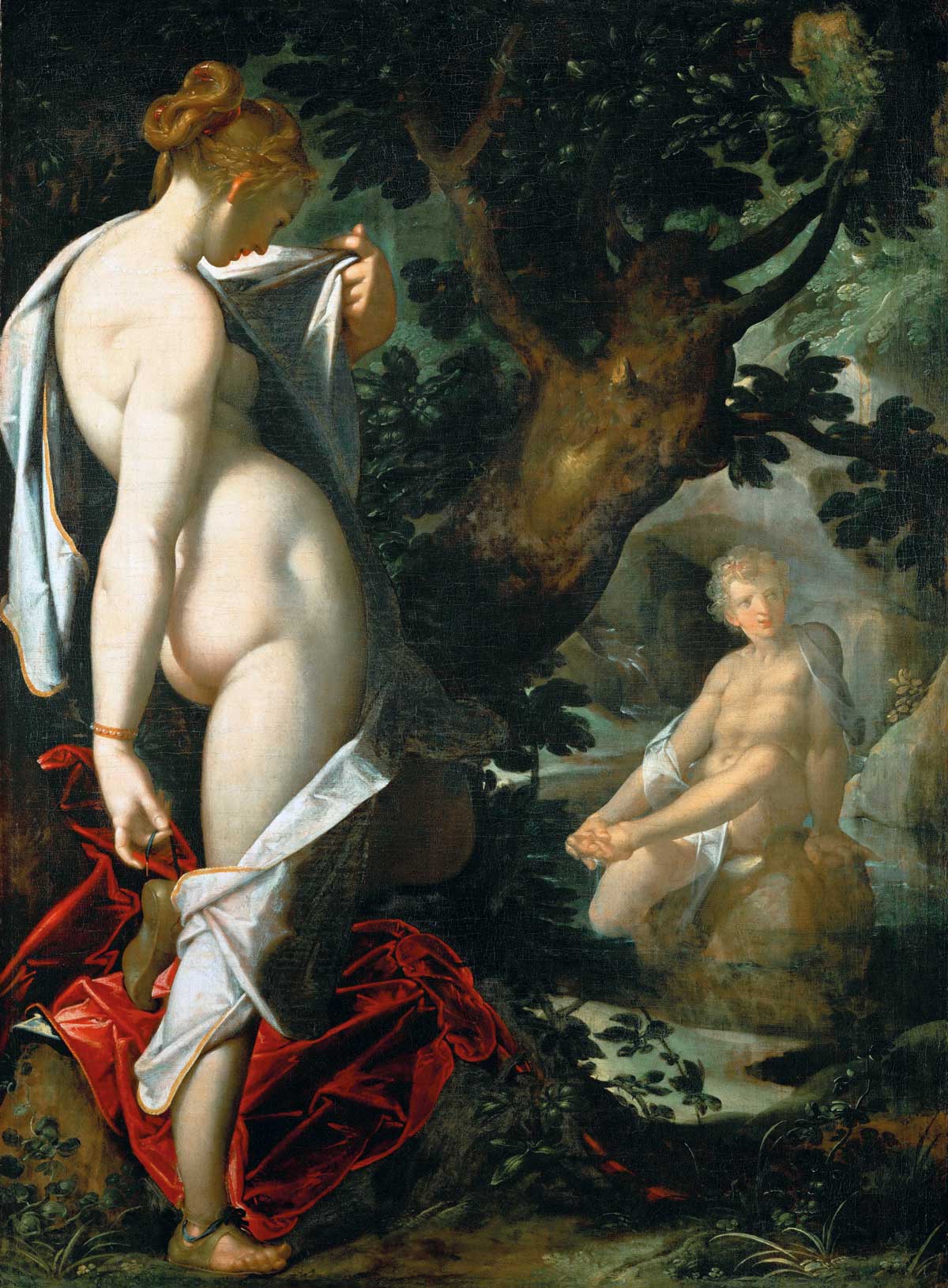 Hermaphroditus, who did not know what love was, blushed as she took off her robe of red, the colour of passion. He struggled as Salmacis demanded 'at least sisterly kisses'. Afraid of losing him, she yielded the spot, saying she would not intrude, and left. As Spranger depicts, she hid behind the bushes as Hermaphroditus, unaware of her presence, stepped into the pool naked and, as he swam, Salmacis cried 'I have won! He is mine!'. She took off her robe, dived into the pool and, despite his efforts at resistance, she entwined around him, 'like a serpent when it is being carried off into the air by the king of birds'. She prayed to the gods for him and they answered: the bodies of Salmacis and Hermaphroditus became united, both male and female.